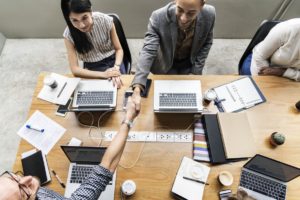 The United States is home to hundreds – if not more – of business conventions and conferences every single year. These conventions attract many people from all over the world, and they can be vital networking and business opportunities for foreign nationals who deal with the United States in business.
Many of these foreign nationals, including Canadian citizens, require B-1 business visitor visas in order to be allowed to come to the United States and conduct these activities. It can be difficult to discern which activities are legitimate business activities and which would require a work permit. Some examples of activities that are permitted on a B-1 business visitor visa are attending conventions, consulting with associates, negotiating contracts and having business meetings.
Canadians can obtain this visa on their way to their event by requesting it at the border. However, there is often a chance that they could find themselves being denied for this visa, and having to miss their event because they were not eligible for one or did not have the proper supporting documentation for this visa.
What do I need for a B-1 business visitor visa?
Someone who wishes to obtain a B-1 business visitor visa must demonstrate to immigration authorities that they are qualified for one, and that they will only be engaging in permissible activities. There is a long list of acceptable activities, but it can still be confusing. A letter from your employer or from whoever invited you to the United States should indicate your itinerary. Some examples of permissible activities include purchasing property, negotiating contracts, investigating business opportunities, attending business meetings, consulting with associates or attending business conferences.
Applicants must also demonstrate their intentions to return to their home country once their trip has concluded, and usually financial statements, information about your property, family or employment can help you demonstrate that you have strong ties to your country of origin and will not overstay your visa.
The following is a list of some of the more typical B-1 Visa activities:
Conference, meetings, trade shows, business events attendee receiving no salary in the US

After-Sales Service under NAFTA: This activity consists of installers, repair and maintenance personnel, and supervisors that:
have specialized knowledge essential to the seller's contractual obligations.

perform services or train workers to perform services that is pursuant to a warranty or other service contract related to the sale of commercial or industrial equipment or machinery, including software, manufactured in Canada. This provision, however, does not apply to residential sales or items.
General Sales: Sales representatives taking orders, negotiating contracts, for goods or services for a business located outside the US but not delivering or proving those goods or services . Also, buyers purchasing for a business located outside the US.
There are many other activities that can be considered as legitimate US business visitors. You should consult with an immigration lawyer should you have any questions about whether your activities will require a US Work Permit or you can just enter the US as a business visitor.
Are You Interested in a B-1 Business Visitor Visa to the U.S.?
Do you have an upcoming business trip in the United States? VisaPlace can help you get there! The VisaPlace Group of Lawyers and their staff are all independent, licensed practitioners who understand how important it is to achieve your immigration goals and have been trained to follow best practices and procedures to maximize your chances of success! Contact us to book a consultation.