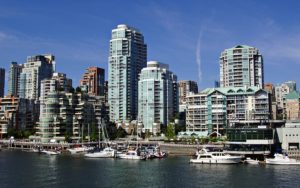 Mayor Gregor Robertson has designated Vancouver a "Sanctuary City" for undocumented migrants, in a welcome move for the city.
Vancouver Designated as a "Sanctuary City"
Recently the "Sanctuary City" movement, promoting the belief that everyone residing in a city should be allowed to use public services free from the fear of deportation, has been increasing in popularity throughout the United States.
Limited services for undocumented migrants have so far been offered in Canadian cities such as Toronto and Hamilton, including medical services, so that people who need them will not be scared to ask for help through the very real risk of being deported. So far in Vancouver, the movement is in its early stages, but Mayor Robertson seems all too happy to follow in the footsteps of the likes of Toronto and Hamilton.
An Open, Welcome and Safe Environment
Mayor Robertson issued a statement to city councillor Geoff Meggs via his website, in which he said: "Vancouver is committed to fostering an open, welcoming and safe environment for people of all different backgrounds, and our diversity is fundamental to our city's success."
The Mayor went on to say that the growing Sanctuary City movement within the United States continues to provide a good example with ways Vancouver can learn to support people who are living as undocumented migrants.
Robertson continued:
"I'm pleased that the current working group recommends we continue to explore the Sanctuary City concept, and outlines how we can establish 'access without fear' policies in Vancouver, while recognizing our city's limited legal jurisdiction."
Overstepping Their Jurisdiction
In his mention of limited legal jurisdiction, Mayor Robertson is acknowledging other political viewpoints, including that of the federal government, which believes Robertson and his Vision Vancouver party may be "overstepping their jurisdiction" by touching on the grounds of immigration policy.
In fact, Minister of Citizenship, Chris Alexander went so far as to state that the government will not support any efforts made by the city council in Canada to offer sanctuary to those migrants who may face deportation.
What This Means for Undocumented Migrants in Vancouver
Although this move by Mayor Robertson is generally good news for undocumented migrants in the city, the endorsement is still in the very early policy formulation stages. This policy would only be properly explored and put into play if Mayor Robertson and his Vision Vancouver party manage to win over a fresh mandate as the result of the next municipal election, which will be held in November this year (2014).
Unfortunately for many undocumented migrants, simply needing medical attention or being the victim of a crime such as domestic abuse can result in deportation by the Canada Border Services Agency.
Even interacting with a public official can come with the treat of getting into legal trouble, which is very off-putting for many undocumented citizens who currently live in a state of fear.
Contact Us
The VisaPlace Group of Lawyers (VPGs) and their staff are all independent, licensed practitioners who understand how important it is for to you to achieve your immigration goals and have been trained to follow best practices and procedures to maximize your chances of success. If you are in need of immigration services or interested in immigrating to Vancouver, book a consultation to find out more about how we can help you.