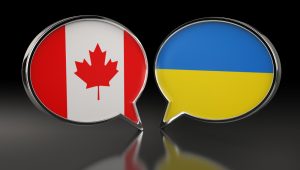 Canada launched a new Mobility Working Group to help Ukrainians immigrate to Canada post-coronavirus. There are more than 1.3 million Ukrainian Canadians living in Canada. Canada and Ukraine work together in a range of international organizations, including the United Nations, the Organization for Security and Co-operation in Europe, and the Organisation internationale de la Francophonie.
Canada-Ukraine Mobility Working Group
On January 27, 2021, it was announced of the new establishment called "Canada-Ukraine Mobility Working Group". This Mobility Group was created to identify and improve mobility opportunities for Ukrainians planning to come to Canada. "This mobility working group is a unique partnership between the Canadian and Ukrainian governments that will let Canada and Ukraine share best practices on migration management, increase recruitment, promote Canada's economic immigration programs and further strengthen co-operation on migration-related matters." according to the IRCC.
The Minister of Immigration, Refugees and Citizens, Marco E.L. Mendicino expanded on the importance of Ukrainians in Canada.
"Through generations of Ukrainians who have made Canada their home, the Ukrainian-Canadian community continues to make outstanding contributions to Canada's economy, our society and our diverse cultural fabric. The unique partnership that we are announcing today will serve to further strengthen the deep-rooted, people-to-people ties between our 2 countries."

Marco E. L. Mendicino
Canada is planning to expand their immigration plans to invite more immigrants to increase their economic growth. Due to COVID-19, Canada's economy must recover fast, and immigration continues to be an important part in the economic growth.
Canada- Ukraine Youth Mobility Plan
Both countries, Canada and Ukraine, will work together through the Mobility Working group to develop a new youth mobility agreement. The Youth Mobility Agreement will provide Canadian and Ukrainian youth to travel once the COVID-19 restrictions are lifted. The agreement plans to improve the labour market for youth between the ages of 18 and 35. This agreement will be similar to the many other youth programs through the International Experience Canada (IEC) program.