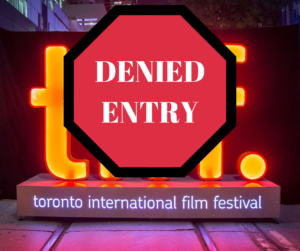 Every year, Toronto holds a film festival that is well known around the world. TIFF, Toronto International Film Festival, attracts foreigners from all around the world to watch the new movie premiers. Unfortunately, for many visas hold them back from being able to attend the TIFF. This year in 2019, a man who was in the spotlight for a film at TIFF was denied entry to Canada.
Denied Entry to Canada for a U.S. Citizen and Former U.S. Military
Hector Barajas, a U.S. Army veteran, has been denied entry to Canada to attend the Toronto International Film Festival. He is the subject of a new movie, "Ready for War," about deported U.S. veterans. Ironically, the movie based on his life "Ready for War" was about how he served for the United States Army but was deported to Mexico in 2004. Hector Barajas, a U.S. Army veteran, spent years trying to get back into the United States after being unexpectedly deported to Mexico in 2004. Unfortunately, his battle with immigration wasn't over when he was denied entry to Canada as he sought to drive across the New York-Ontario border. A spokeswoman from Canada's Border Services Agency commented on the situation:
"Admissibility of all travelers is decided on a case-by-case basis and based on the information made available at the time of entry. Several factors are used in determining if an individual is admissible to Canada, including involvement in criminal activity, human rights violations, organized crime, security, health or financial reasons."
Timeline of Baraja's Battle with Immigration
Barajas was brought to the US at 7 years old.
He served in the U.S. Army for six years.
He then was unexpectedly deported in 2004 back to Mexico, a home he does not remember.
Barajas was allowed to return to the United States in 2017
Granted U.S. citizenship in 2018
As a U.S. citizen came to see a film made about him in Canada but was denied entry
TIFF Films About Immigration
There are two main films premiering at TIFF that feature immigrant stories.
The Immigrant
Set in 1921 New York, The Immigrant is not only a sort of prelude to James Gray's tales of familial and ethnic ties in contemporary NYC, but also another of the director's studies in twisted love and dark romance. After a long sea journey from Poland, Ewa (Marion Cotillard) arrives at Ellis Island in search of a better life — a hope that is quickly dashed when her seriously ill sister is quarantined and Ewa falls into the clutches of Bruno (Joaquin Phoenix), an opportunistic charlatan who runs a burlesque show and sidelines as a pimp. Selling herself at Bruno's sleazy theatre as she strives to make enough money to buy her sister's freedom, Ewa becomes enchanted by a kindly magician (Jeremy Renner) whose amorous attentions arouse the ire of Bruno, who also loves Ewa in his own sickly, controlling way. Loosely patterned on Fellini's La Strada, beautifully shot by Darius Khondji (his first collaboration with the director), and performed with heartbreaking emotional directness and silent-film pathos by its magnificent cast, The Immigrant is a singular film about sacrifice, self-worth, and redemption

2. Ready For War
Andrew Renzi's heartfelt and hard-hitting documentary sheds light on the lives of three of the estimated thousands of immigrants who volunteer for service in the American military, yet find themselves deported from the US once their tours of duty are over.

Thousands of immigrants in the United States enlist in the military, expecting an expedited path to citizenship. But the reality is more complicated. After fulfilling their service, thousands are estimated to have been deported. (The enforcement agency known as ICE won't divulge the exact number.) Something even more sinister awaits on the other side of the border, where drug cartels convert the US-trained soldiers into mercenaries. Ready for War profiles three veterans living different stages of this lethal cycle. Miguel Perez grew up in Chicago and did two tours of duty in Afghanistan, where he suffered a traumatic brain injury. Back in the US, he was arrested for a non-violent drug charge and deported away from his parents and children in Chicago to Mexico, where he has no support. Hector Barajas suffered a similar fate. The former US Army 82nd Airborne Specialist was deported in 2004 and dedicates himself to running the Deported Veterans Support House in Tijuana. Lastly, there is the masked "El Vet," a soldier ejected by the US whose strongest job prospect was to become a killer for the cartels.

Director Andrew Renzi and producer Nick Boak embed themselves into the lives of these veterans and their families. We also meet the community of lawyers, activists, and politicians struggling to find justice. At a time when US deportations have become ubiquitous and desensitizing, Ready for War has the power to bring a fresh perspective.
Are You Interested in Visiting Canada?
If so, Contact VisaPlace today. All our cases are handled by competent and experienced immigration professionals who are affiliated with VisaPlace. These professionals consist of lawyers, licensed paralegals, and consultants who work for Niren and Associates an award-winning immigration firm that adheres to the highest standards of client service.
Ready for the next step? Book your 1 on 1 consultation now or call us at 1-888-317-5770.
Have a Question related to your Immigration Needs?
Click here to fill out the FREE Immigration Assessment form below and get a response within 24 hours to see if you're eligible.
The assessment form should take approximately 5-7 minutes to complete. We will get back to you within one business day to let you know if we are able to help.