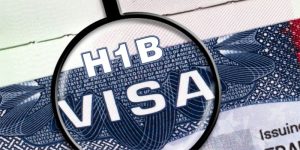 Did you know that the H-1B Visa is the most popular US immigration visa? The H1-B visa is a non-immigrant visa that allows US firms and businesses to hire foreign workers in particular professions that require special expertise. This visa category is a great option for those skilled workers within specialty occupations that are looking to start a new life in the United States.
Along with being the most popular, the H-1B visa process goes through a number of changes yearly and it's important to stay informed but don't worry, we have your 2020/2021 H-1B visa updates here in one place!
H-1B Selection Process is Changed to Prioritize Wages
At the beginning of 2021, the USCIS has announced a final rule that will alter the H-1B Visa cap selection process by amending the current lottery procedures, and prioritize wages to protect the economic interests of US workers while ensuring that most highly skilled foreign workers benefit from the temporary employment program.
This new change to the H-1B cap selection process will encourage employers to offer higher salaries, and/or petition for higher-skilled positions, and establish a more certain path for businesses to achieve personnel needs and remain globally competitive.
H-1B Visa Reform to Raise Foreign Worker Wages
In October 2020, Trump administration announced the plan for additional changes to the H1-B program for high-skilled workers. This new immigration reform will raise the wages that the US companies have to pay foreign workers and reduce eligibility criteria for those who wish to apply.
The new regulations will directly affect both foreign workers and employers, but mainly tech companies that have supported and relied on the H1-B visa program and urged for their expansion.
At the same time, a new Department of Labor rule is slated to go into effect requiring employers to increase what they pay H-1B recipients in an effort to discourage companies from undercutting American workers. The Trump administration has accounted for its restraints on foreign work visas by declaring that American workers should be prioritized amid the economic downturn caused by the coronavirus pandemic.
This rule, which is said to take effect mid-December, would also tighten the eligibility for visa applicants. The rule would require the foreign workers to have a specific degree in the "specialty occupation" they apply for, rather than any college degree. Some would also need to show how their studies provided "a body of highly specialized knowledge" for a potential job in the United States.
Kenneth T. Cuccinelli, the acting deputy secretary of homeland security, said he expects these changes to cut by one-third the number of petitions filed annually for the coveted visas. Immigration experts predict that these changes would be swiftly challenged in court because they avoided the normal regulatory process.
Business groups quickly filed a lawsuit over the executive order, arguing that the US has benefited from temporary worker visa holders year after year.
Need Help With Your H-1B Visa Application?
If you find yourself affected by this announcement and need legal assistance, contact VisaPlace today. All of our cases are handled by competent and experienced immigration professionals who are affiliated with VisaPlace. These professionals consist of lawyers, licensed paralegals, and consultants who work for VisaPlace Legal an award-winning immigration firm that adheres to the highest standards of client service.
Ready for the next step? Book your 1 on 1 consultation now or call us at 1-877-296-0874.
Have a Question related to your Immigration Needs?
Fill out the FREE Immigration Assessment form and get a response within 24 hours to see if you're eligible.
The assessment form should take approximately 5-7 minutes to complete. We will get back to you within one business day to let you know if we are able to help.