After October 17, 2018 Canada will be legalizing recreational marijuana use. The bill will allow Canadian provinces to control and regulate how marijuana can be grown, distributed and sold. Canada is the second country to legalize weed national wide, just behind Uruguay who legalized marijuana in 2017. Trudeau made legalizing cannabis part of his campaign platform in 2015, and in 2017 he introduced legalization legislation. On Twitter, the Prime Minister marked the passage of the Cannabis Act, writing, "It's been too easy for our kids to get marijuana – and for criminals to reap the profits. Today, we change that. Our plan to legalize and regulate marijuana just passed the Senate."
Questions About Canada Legalizing Marijuana
Many people have questions about this new law that will be passed so we're going to answer your top questions about Canada legalizing marijuana.
When Can I Buy Marijuana in Canada?
You will be able to buy weed in Canada on or after October 17, 2o18. Originally the Canadian Government wanted to pass the legalization of marijuana by July 1, 2018 which is Canada day but it was pushed back due to scrutiny in the Senate. Typically after a law is passed it may take a few months for there to be a transition period for cannabis to be legally sold or bought in Canada.
Where Can I Buy Weed in Canada?
Each province is in charge of their sales and distribution laws. Provinces in the east like Ontario and Quebec will only allow people to buy weed legally at province-run shops, similar to laws in Alabama and Utah where only states are allowed to sell alcohol in stores. But provinces in the west, like British Columbia, will allow entrepreneurs to open up their own weed shops. Once all provinces have come out with their laws and regulations you'll have a better idea of whether you have to go to a government-run company or a privately owned store for weed.
How Much Weed Can I Buy in Canada Legally?
Adults are allowed to carry up to 30g of dried cannabis (or its equivalent) in a "public space", which means that's all you can buy at any one time. Note that "public space" includes your personal vehicle. If you're caught out in public with more than 30g, you can face up to five years in prison.
Can I Drive High in Canada?
No! Just like you can't drive high now, those laws are about to get even tougher, with federal legislation working its way through Parliament to coincide with legalization. First, police must reasonably suspect a driver is impaired before ordering further testing for drugs. This could include, for example, smelling marijuana or observing slurred speech and bloodshot eyes. Once an officer has reasonable suspicion, a saliva test or a field sobriety test could be ordered. Based on that evidence, a driver could be brought back to the police station for a blood test, an examination by a drug recognition expert, or both. The new per se limits on THC would allow police to immediately lay charges based on the blood test results.
Toxicologists point out that blood THC levels do not necessarily mean impairment. Even a small amount of cannabis can cause your THC level to spike before dropping and levelling out. THC is also fat-soluble, meaning it can show up in the blood for days after consumption.
The government's second safeguard, then, is the creation of a "low blood drug concentration offence" that comes with a fine of up to $1,000, but otherwise exempts drivers from the harsh minimum sentencing for impaired driving convictions. A justice official told senators this category is meant to "send the message that you don't mix marijuana and driving."
Can I Give Some of My Weed to My Friend?
Unless you are a licensed retailer, it is illegal for one adult to sell cannabis to another. Anyone found selling marijuana without a license will face fines up to $5,000 or up to 14 years in prison. You are, however, allowed to freely share your drugs with your friends.
Can I Grow My Own Weed in Canada?
Federal guidelines allow recreational users to grow up to four plants per household, up to a metre tall. Most provinces have acceded to this suggestion, with some (like British Columbia) stipulating that the plants must be grown in a secure location out of public view.
In Manitoba and Quebec, however, home growing is illegal. Landlords in some provinces are also pushing for the right to ban tenants from growing cannabis in their rental properties. – The Guardian
Can I Smoke Weed at Work in Canada?
Your employer has final authority on drug policy in the workplace. The rules are different if you use medicinal cannabis. Employers are required by law to accommodate medicinal users the same as they would anyone else with a disability or medical condition requiring prescription drugs. This rarely implies carte blanche to smoke on the job, however. Consult your employer for details.
Can I Smoke Weed in my House in Canada?
In many parts of Canada, your home may be the only place that you can legally smoke marijuana. Although for renters, many provinces (Alberta, Saskatchewan and Ontario) are suggesting to allow landlords the power to ban smoking weed in residences as part of the lease.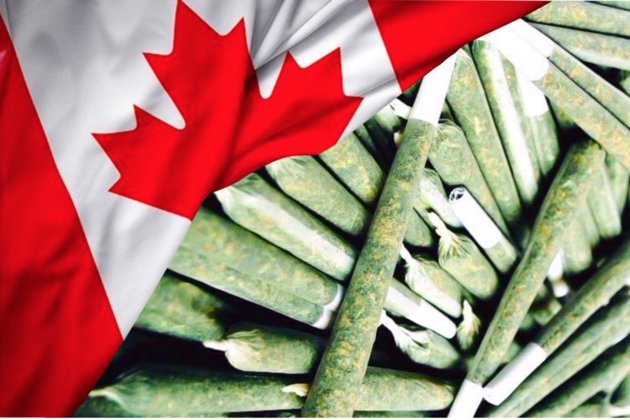 Are You Interested in Canadian Immigration?
If so, Contact VisaPlace today. All our cases are handled by competent and experienced immigration professionals who are affiliated with VisaPlace. These professionals consist of lawyers, licensed paralegals and consultants who work for Niren and Associates an award winning immigration firm that adheres to the highest standards of client service.
Ready for the next step? Book your 1 on 1 consultation now or call us at 1-888-317-5770.
Have a Question related to your Immigration Needs?
Click here to fill out the FREE Immigration Assessment form below and get a response within 24 hours to see if you're eligible.
The assessment form should take approximately 5-7 minutes to complete. We will get back to you within one business day to let you know if we are able to help.