How to Get a TN Visa in 8 Steps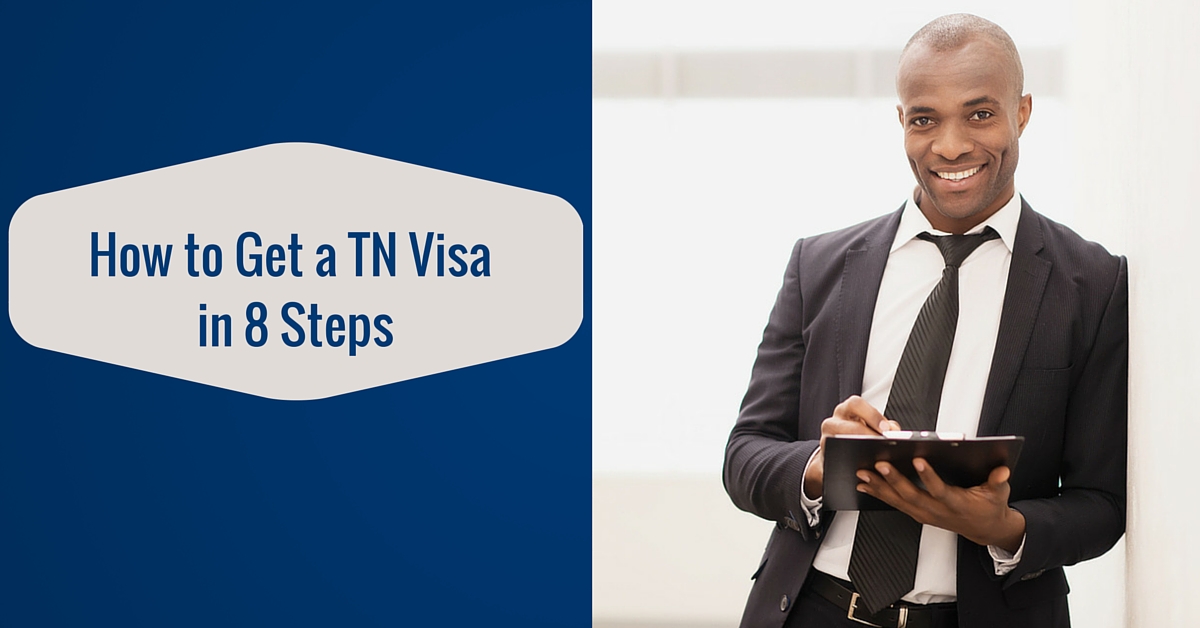 Need help with your TN visa application? Unsure of what to do or where to go? Check out these 8 steps to help get your visa approved and you on your way to working in the United States:
1. Look for fixed-term job postings
TN visas are only available for jobs which have an (initial) fixed term of three years or less. Your best bet will be to look for contract positions, ideally with an option to renew at the end of the term.
2. Determine if the job involves an eligible TN occupation
TN visas are only issued to Canadians working in one of the professions specified in Appendix 1603.D.1 of the NAFTA. The majority of the work performed in the position must also be that of the professional category under which you will be applying.
3. Ensure you meet the requirements
Each TN visa-eligible occupation also has minimum education or credential requirements. While some professions differ, the majority of jobs will require at least a baccalaureate degree in the field of potential occupation. The full list of requirements for each profession are also listed in Appendix 1603.D.1.
4. Obtain an offer letter from your employer
To be issued a TN visa you will need a letter from your new employer which includes the start and end date of your working period as well as a detailed breakdown of the duties to be performed in your new job and a listing of the type of compensation to be offered for your work.
5. Collect employer supporting documents
Typically provided by the company's human resources department, your successful TN visa application will also require a letter or other documentation that explains your employer's business – including number of employees, basic financials and any pertinent company facts or figures.
6. Gather your paperwork and get ready to travel
Head to a port of entry into the United States (most often an airport) and approach U.S. customs as you would on any other trip. When asked about the purpose of your visit, inform the customs officer of your intent to apply for a TN visa. You should be taken to a secondary screening area where customs officials will review your documentation, ask you questions and process your visa request.
Most TN visa requests are processed on the same day of travel for Canadians looking to start their new position immediately upon landing or in the following 24 hours however the process will take at least an hour to complete so plan flight times accordingly.
You will need:
Your offer letter
A valid passport
Employment documentation from Step 5
Copies of your relevant university or college degree and transcripts
Where applicable, a confirmation letter from your professional association confirming licenses and standing
A current resume
Verification of past employment. This can include offer letters, job descriptions and contracts
Documents proving your intent to return to Canada. Strong proof for these purposes would be that of of ownership of Canadian real estate, investment holdings or vehicles.
7. Bring U.S. Currency
Your TN visa application processing fee will cost $56 USD: $50 for the visa and an additional $6 for your I-94 card which is required, along with your passport, to obtain a driver's license and social security number within the United States.
It is also a good idea to have U.S. currency or another valid source of funds at the ready to pay for an immediate return trip home should your TN visa application be denied.
8. If you have dependents, bring them too
Spouses and dependent minors under age 21 are eligible for TD visas, should you wish them to travel with you to the United States. While they are ineligible for employment TD visa holders may attend any educational institution within the U.S. If you need to travel ahead of your dependents to begin work note that you will have to return to Canada to apply with them at customs for their TD visas and so, if possible, it is advised that the initial crossing be performed together.
Your spouse will require a passport, birth certificate and wedding certificate while any dependent minors will require passports and birth certificates. No child over 21 years of age is eligible for a TD visa.
While your family may not be able to work, and thus will not receive a Social Security Number you should still accompany them to the nearest IRS office and apply for an Individual Taxpayer Identification Number. Your dependents will need this number to open bank accounts, register in school and be eligible for health insurance and other benefits earned through your employment.
Many employers seeking to hire Canadian professionals will have human resources departments' familiar with the TN visa process however for those that are not familiar – or are not willing to engage the process on your behalf – the best way to ensure a successful visa approval is by soliciting the services of an experienced immigration attorney.
Work with an immigration Professional
While we hope the steps and tips above aide you in your TN visa application, nothing matches the security of knowing a reputable immigration lawyer is on to of it. That is where we at Visaplace come in handy. With more than 15 years of experience, we know what immigration officials look for in a TN visa application. A single mistake can lead to visa refusal. Therefore, it is in your best interest to hire an immigration lawyer.
To get started, simply fill our Free Immigration Assessment Form and we will get back to you within 24 hours to discuss your eligibility and options.
The content and comments of this blog are not legal advise and and may not be accurate or complete. If you require legal advice, contact a licensed legal practitioner directly. If you post on this blog, you assume full responsibility for disclosing your identity to the public and VisaPlace nor its affiliates are not responsible for protecting your privacy nor your identity concerning your participation in our blog and you assume any risks in participating.
Customer Reviews
I could not have asked for more! The VisaPlace team are extremely professional, they know their stuff. They gave me great information, prepared my work visa application and then prepared me for the submission process. I was successful. Got my visa. 5 stars! I would give them 6 if I could.
This is not an exaggeration!!! I was truly impressed with the way VisaPlace consultants handled my case. The consultants- Emily, Lauren, Takunda and Lisa, took their time to explain to me in great deal how they were going to approach my case and how they would handle setbacks, if any. Their professionalism and knowledge of the law were superb. The minor setback that came up was quickly addressed by the team. The team constantly kept me updated on the progress/status of my application; they quickly responded to my questions/concerns. They had predicated my permanent residency to be processed within 6 -12, and Indeed it was processed and completed within 6 months. Based on my personal experience, Emily and Lauren's team are the best! They deserve 5 stars!!!!!!!!!!!
VisaPlace helped me sponsor my husband to become a Permanent Resident of Canada. They were extremely professional. Every step along the way was explained fully and expertly taken care of. The staff responded immediately to any questions and always handled our concerns fully, taking as much time as we needed to understand where we were at in the immigration process and what to expect next. I would recommend VisaPlace with no hesitation at all. I'm sure if we had tried to navigate the immigration process ourselves, it would have been much harder.