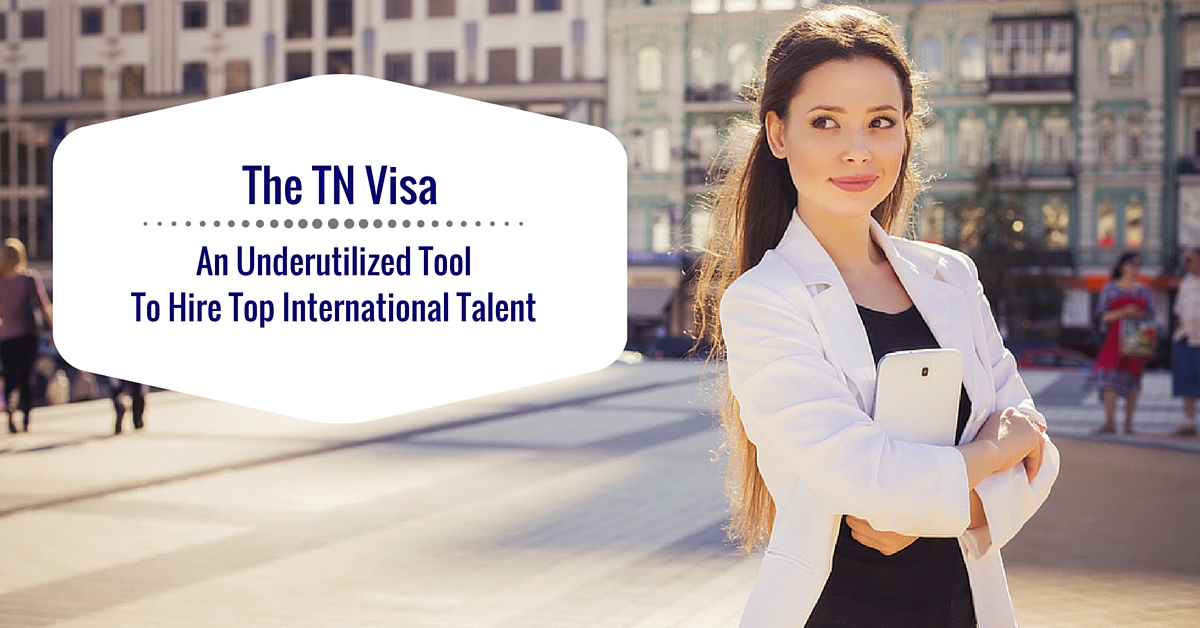 Thanks to NAFTA, the North American Free Trade Agreement, a specialized visa category exists – one designed to make temporary employment and residency in the United States easier for Canadian (and Mexican) nationals in certain designated professions.
In fact, the TN Visa has distinct advantages over the traditional H-1 and L-1 visas used to retain professional foreign workers in the United States and is ideal for employers looking to hire and relocate top foreign talent into the country – especially on a temporary or contract basis.
To qualify for a TN Visa, the applying worker must be in one of the professions listed under Schedule 2 of NAFTA and possess the listed credentials required for that profession. For the majority of professions this means a minimum of a baccalaureate degree will be required. Unfortunately, a combination of experience and education is not accepted as equivalent to or in lieu of the stated educational requirements for a TN Visa and workers – or employers with workers – in this situation should instead apply for the standard H-1 visa.
Those looking to bring their families should be aware that spouses and unmarried children under 21 of TN visa holders are accepted into the U.S. under the TD classification. This class is prevented from seeking any employment unless independently qualified but is however permitted to study at any educational institution within the United States.
For Workers
Canadians currently residing outside the U.S. do not require a petition for employment from their prospective employer and do not need to obtain a TN-1 consular visa. Qualifying Canadian workers can apply for their TN visa at any Class A U.S. port of entry.
However, an applicant must be able to provide the following:
Proof of Canadian citizenship;
A letter from his or her employer with a full description of duties to be performed, pay arrangement and anticipated length of stay in the united states; and
Evidence that the applicant meets the education requirements for the employment activity and possesses any required licenses to engage in said activity.
Keep in mind that simply stating that you are a member of a qualifying profession is insufficient to obtain a TN visa. Your work within the United States must primarily include performing the relevant professional level activities.
Once approved on a TN visa, workers are not required to show that they maintain a foreign residence during their U.S. stay but they must nonetheless establish their non-immigrant intent as the United States Customs & Immigration Service (USCIS) has stated that TN visa holders are not exempt from the presumption of immigrant intent. What this means practically speaking is that the USCIS assumes all TN visa holders have in their minds the eventual goal of permanent settlement in the United States unless proven otherwise. The intent to remain temporarily must be shown at each application for admission, extension or readmission.
Despite a successful petition, due to reciprocal visa arrangements with the United States, Canadians can only receive six-month visas and as a result your TN visa will most likely expire before the end of your permitted working period. However, this does not limit or otherwise invalidate an approved employment period within the U.S. and so TN visa holders are advised to carry a letter from their employer that requests that U.S. border inspectors admit them for the full period of stay and cites USCIS policy guidelines.
Do not stay beyond the last day you are authorized to be within the United States – the date specified on your Arrival-Departure Record, Form I-94. Staying beyond the time authorized by the Department of Homeland Security can jeopardize your eligibility for future visas and your ability to re-enter the U.S. generally. It is better to return to Canada, even if only for a short while and even if you know your extension will be approved, then attempt to "wait out" any delay.
For Employers
The principal alternative to the TN category for employers seeking to hire Canadian professionals on a temporary basis is use of the H-1B non-immigrant category.  If you're seeking to hire a Canadian professional, sponsoring under the TN category has three big advantages over H-1:
The USCIS does not have to approve a petition submitted by the employer
The six-year limit on stay does not apply to the TN category and Canadians who have already completed six years in another non-immigrant category can immediately qualify for the TN category without fulfilling the otherwise-imposed requirement of one-year-abroad.
There is no annual ceiling on the admission of Canadian TN professionals
Your Canadian hire will be subject to the strike provisions in NAFTA. This means that if your place of employment is the subject of any labour dispute involving work stoppage, the USCIS may deny the worker's TN visa application if it feels that granting entry to the temporary employee may adversely affect either the settlement of the dispute or the employment of a person involved in the dispute. Note: this provision is only triggered in the event that a strike or labour dispute is certified by the US Department of Labor.
You must provide your TN visa applicant with a detailed letter that states the full nature of the duties he or she will be performing, the anticipated length of stay of your temporary worker and what arrangements for pay or reward for their work have been negotiated. This letter is required during the visa application process and so all details of their employment should be finalized before they begin the application process.
The maximum period of initial stay for TN visa holders is three years. That period can be extended in three year increments with no limit on total period of stay. It is nonetheless advised that you seek legal representation before the end of each three-year period to ensure the smooth and timely processing of all applications and documents to avoid your worker having to return to Canada in the interim.
With a quick application process and the USCIS setting no annual limit on TN-1 admissions, employers and applicants alike can be doubly confident in a successful outcome so long as the visa requirements are met and the worker passes the standard immigration security screening. Still, with limited visa expiry and additional letters from the employer citing USCIS regulations and details of employment, TN visa applicants and their employer sponsors are best served to contact a qualified immigration lawyer to help navigate the process.
Are You Ready to Apply for a TN Visa?
If you are Canadian or Mexican, and you have a job offer in the US, you may be eligible for a TN Visa under the NAFTA agreement. However, the documentation and processes involved in successfully obtaining a TN Visa for a foreign beneficiary are complex and usually require legal expertise. At Visaplace, we have helped countless individuals with their TN visa applications and we can help you, too.
To get started, simply fill our Free Immigration Assessment Form and we will get back to you within 24 hours to discuss your eligibility and options.