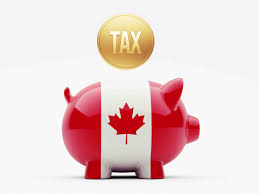 Many of the benefits Canada is able to enjoy are funded through the people's taxes. Canada's tax system pays for roads, schools, health care, social security, public safety and immigration services for newcomers etc.
Filing your first tax return is an important step in your newcomer's life in Canada. There is a lot of information for people and residents who are new to Canada to keep in mind when it comes to their taxes. Filing taxes can be a confusing process, especially for those who come from a country where they've never before had to do so. Here, we answer some of the top questions immigrants or newcomers have asked about taxes in Canada.
FAQ's About Taxes in Canada for Immigrants
What Are the Tax Rates in Canada?
Canada Personal Income Tax Rate. In Canada, the Personal Income Tax Rate refers to the Top Marginal Federal Tax Rate applied on taxable income over CAD 138,586. The individuals are also subjected to at least 15 percent provincial tax rate.
Are Taxes in Canada Considered High?
Canada has a progressive tax system much like America's, the amount any individual pays varies according to their circumstances. The average top marginal tax rate on wage income in Canada is 45.7 percent.
Do You Have to File Income Tax If You Have No Income in Canada?
Most people in Canada will have to file a tax return, even if they made no income. You have to contribute to the Canada Pension Plan (CPP). This can apply if the total of your net self-employment income and pensionable employment income is more than $3,500.
What Happens If I Don't Pay My Taxes in Canada?
If you owe taxes and don't file your return by the deadline (it has to be postmarked on or before April 30), the CRA will charge you a late-filing penalty. The penalty is five percent of your balance owing, plus one percent of your balance owing for each full month that your return is late, to a maximum of 12 months.
How Do I File My Canadian Tax Return?
By mail – You can fill out a paper return and mail it to your local tax services office.
Online – Use NETFILE to file your return online.
Other Options. Visit the CRA website for more details about your filing options.
Do Students in Canada Have to Pay Taxes?
Full-time students are not exempt from paying income tax in Canada. If you received any income, including summer jobs, part-time jobs, scholarships, bursaries or grants, you need to file an income tax return.
Are You Interested in Immigrating to Canada?
If so, Contact VisaPlace today. All our cases are handled by competent and experienced immigration professionals who are affiliated with VisaPlace. These professionals consist of lawyers, licensed paralegals, and consultants who work for Niren and Associates an award-winning immigration firm that adheres to the highest standards of client service.
Ready for the next step? Book your 1 on 1 consultation now or call us at 1-888-317-5770.
Have a Question related to your Immigration Needs?
Click here to fill out the FREE Immigration Assessment form below and get a response within 24 hours to see if you're eligible.
The assessment form should take approximately 5-7 minutes to complete. We will get back to you within one business day to let you know if we are able to help