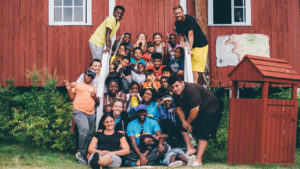 Workers come to find jobs in the U.S. to improve their skills, their education level, travel in the U.S. and just to get a feel of the American life. Working abroad in the U.S. is also a wonderful way for individuals to spend a summer abroad or spend a gap year. There are ample opportunities for part-time or seasonal jobs in the United States, and working in the U.S. gives individuals time to explore the country, while supplementing travel expenses and gaining international work experience.
Summer Jobs in The USA fall into several categories: Summer Camp, Holiday Resort, Internship, H2B seasonal work. The summer camp option offers the chance to work a summer with kids on summer camp, then travel a bit after the season. This is a fantastic way to see America on a gap year. There are many internships open to international students but you need to be at Uni presently. The H2B Visa is a worker visa in the USA that allows organisations that have a repeated requirement for extra staffing on a seasonal basis which needs migrant workers to fill the jobs. This pretty much means any seasonal work but the employer needs to be a registered H2B Visa employer.
Summer Camp Counselor
Working the summer camps in North America is a very popular option. You get a quality start in a country where work is not easy to come by and then the chance to travel after the season.
If you're intrigued by international travel and working with children and young adults appeals to you, there are few better positions available that combine both interests like camp counselor jobs abroad. Offering the opportunity to earn money while spending time outdoors educating children and teenagers in various settings, from the mountain wilderness to the ocean side beach, the young lives you will inevitably mold and the friends you will make along the way will make working as a camp counselor abroad an entirely unforgettable time.
On most kids camps there are two types of role; working with the kids directly and working behind the scenes to support the camp operations. Thousands of jobs are created each year on summer camps for specialist staff and willing workers with no specific experience.
Summer Holiday Resort
There are lots of different kinds of resort jobs in the summer. There are even companies that will provide you with a package of accommodation and support while you find work on the spot, this is riskier than getting work in advance. It is recommended you find a job before you get out there to best avoid having to come home after two weeks with no money. As a rule, the more difficult the job is, the more likely it is to be advertised out-with the resort. It's tough to find PR jobs and bar work in summer resorts before you set off, but if you want to be a resort rep or you are a qualified chef then you will be able to secure a job in advance.
Some summer holiday resort jobs may include:
hotel receptionist
housekeeping
kitchen work
hospitality
lifeguard
food server
Summer Internship
If you're considering internships in USA for international students, you're in an ambitious group of students hungry for invaluable global experience. Gaining professional experience in the United States will undoubtedly boost your credentials in any field. Studying abroad or being an au pair isn't the only way to intimately understand American culture. Internships for international students can provide the same cultural foundation as well as professional development.
In addition to managing the world's largest economy, the U.S. controls one third of the world's media, is home to several notable fashion labels, and runs a massive sports industry that trickles out throughout the world. When you think of some of the biggest hotel chains, American names like Hilton, Marriott, and Wyndham may come to mind. The fact is no matter what field you want to work in, you can find wonderful internships in the USA for international students in several world-renowned companies and organizations.
If you are not interested in an internship, but would like to learn about finding a job in the US as an international student, we can help..
H2B Visa Work
The H2B visa labor certification program establishes a means for U.S. non-agricultural employers who anticipate a shortage of domestic workers, to bring temporary nonimmigrant foreign workers into the U.S. H2B visa eligibility requires that the job and the U.S. employer's need for the foreign worker be of a temporary nature. The need must be for one year or less and can be either a one-time occurrence, seasonal, peak load or intermittent. Temporary employment should not be confused with part-time employment which does not qualify for temporary (or permanent) labor certification.
Types of H2B visa jobs include: hospitality workers, hotels/motels, chefs, resorts and theme parks, ticket sales, cruise ships, construction workers, maintenance, janitorial, ski resorts, landscaping, golf courses, water parks, security, ride operators, restaurants and bars, warehouse, retail stores.
Are You Interested in Finding a Summer Job in the United States?
If so, Contact VisaPlace today. All our cases are handled by competent and experienced immigration professionals who are affiliated with VisaPlace. These professionals consist of lawyers, licensed paralegals and consultants who work for Niren and Associates an award winning immigration firm that adheres to the highest standards of client service.
Ready for the next step? Book your 1 on 1 consultation now or call us at 1-888-317-5770.
Have a Question related to your Immigration Needs?
Click here to fill out the FREE Immigration Assessment form below and get a response within 24 hours to see if you're eligible.
The assessment form should take approximately 5-7 minutes to complete. We will get back to you within one business day to let you know if we are able to help.