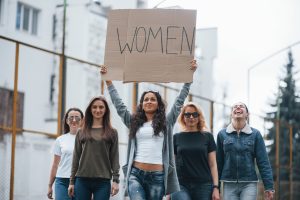 Recently online searches about moving to Canada from the United States have surged by 850%. This happened after the US Supreme Court overturned Roe v. Wade last week on June 24th, 2022. Many people across the country were upset with this change and searching for new living options. With political climates always changing in the US, Canada is usually a hot spot for Americans looking for a big move. If this sounds like you, you may need to know what options are available to you!
How Past Rulings Have Affected Immigration
This isn't the first time we have seen a spike in Canadian immigration after an election or political change in the United States. The last time we saw this spike was during the 2020 American election when Joe Biden became the 46th president of the United States.
Abortion Laws in Canada
For those who have been affected by this new policy or want to live in a place without these abortion restrictions, Canada may be a great option for you! Abortion is legal at all stages of pregnancy in Canada. Abortion in Canada has been legal since 1969 at all stages of pregnancy, regardless of the reason, and is publicly funded as a medical procedure by all provincial healthcare systems across the country. In the United States, the landmark 1973 Roe v. Wade decision established that women had a right to have an abortion up until the point of viability last week.
"No government, politician, or man should tell a woman what she can and cannot do with her body." – Canadian Prime Minister Justin Trudeau
How to Immigrate to Canada
There are a few main ways to immigrate to Canada from the United States. These popular pathways include:
Express Entry
Express Entry is Canada's biggest and most popular immigration pathway for all kinds of skilled workers seeking Canada PR. The Express Entry pool ranks candidates who may be eligible to gain Canada PR through a number of factors like age, work experience, education, language proficiency, plus more. The IRCC will proactively assess, recruit, and select candidates who meet the right criteria under 3 different economic programs which include:
Provincial Nominee Programs (PNPs)
Provincial Nominee Programs often referred to as PNPs are technically a branch out from Express Entry as these applications are usually managed and processed in the same system. Applying for a PNP nomination means you are entering a specific pool where that province or territory can nominate you and grant you Canada PR to fill their specific labor shortages. This is the perfect pathway for any foreign skilled workers that have an idea of which province or territory they want to settle in. Making this simple decision can really advance you in the immigration process as it's usually quicker and gives you 600 additional points towards your Express Entry CRS score.
TN Visa
The TN Visa was created under the NAFTA agreement made between Canada, the United States, and Mexico allowing these citizens to use their previous work experience and skills to work in Canada. Receiving a job offer in Canada will create you a fast-track pathway to a Canadian work permit through this unique visa.
Family Sponsorship
Canadian citizens have the opportunity to sponsor specific relatives to live with them in Canada if they meet the eligibility requirements. Canada uses this to reunite families and bring all types of relatives together. There are different qualifications whether you are a Canadian citizen or permanent resident when it comes to family sponsorship so it's important to learn more about this option and see what applies to you!
Temporary Foreign Work Permit (TFWP)
Obtaining a Temporary Foreign Work Permit (TFWP) gives you a temporary status but also gives you the opportunity to gain Canada PR in the future. The LMIA process is best for those who can walk side by side with a potential employer in Canada. In the perfect TFWP scenario, you connect to an employer through an online job search and interview process, that employer is either already LMIA certified or is willing to become LMIA certified, and then they petition you for the work permit. Once you've gained enough Canadian work experience, there's a great chance you are eligible for the Canadian Experience Class to gain Canada PR.
Business Immigration
Business immigration is best for investors, business owners, and entrepreneurs looking to expand their business ventures to Canada. Those who meet the eligibility requirements may be eligible to immigrate through the Start-Up Visa, Business PNP Programs, Corporate Immigration, or the Self-Employed Persons Program.
Are You Interested in Immigrating to Canada?
If so, Contact VisaPlace today. All our cases are handled by competent and experienced immigration professionals who are affiliated with VisaPlace. These professionals consist of lawyers, licensed paralegals, and consultants who work for VisaPlace Legal, an award-winning immigration firm that adheres to the highest standards of client service.
Ready for the next step? Book your 1-on-1 consultation now or call us at 1-877-296-0874.
Have a Question related to your Immigration Needs?
Fill out the FREE Immigration Assessment form and get a response within 24 hours to see if you're eligible.
The assessment form should take approximately 5-7 minutes to complete. We will get back to you within one business day to let you know if we are able to help.