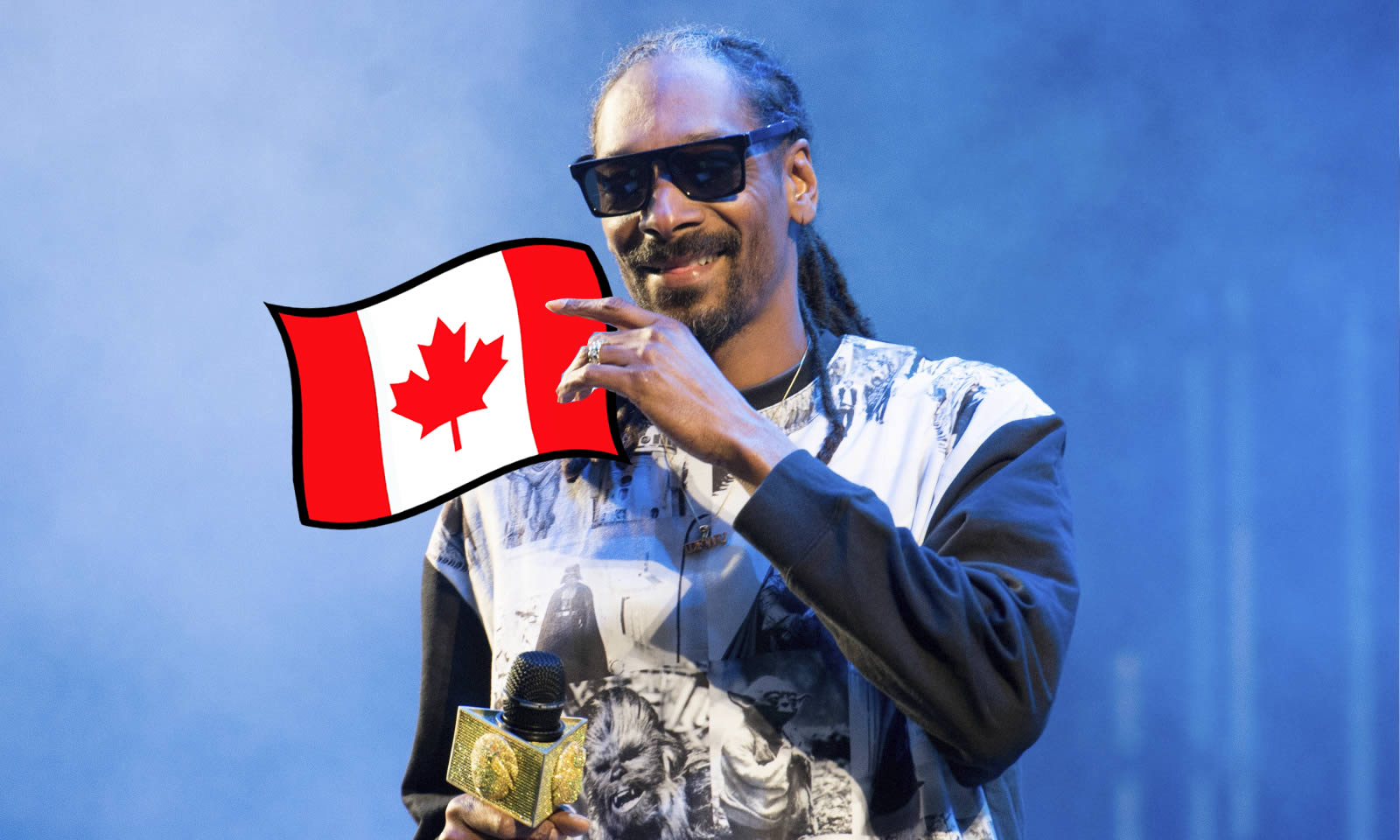 Back in 2016 many celebrities threatened to move to Canada if Donald Trump was elected the President of the United States. Although many threatened to do so, not many have yet. Last week, Justin Bieber and Hailey Bieber (Baldwin) started their move to Canada and now Snoop Dogg has announced he may be doing the same as well.
At the launch for his brand new book, the rapper revealed that he considers Canada his second home and even wants to get his dual citizenship here. Snoop went on to say that he wants to move here and become a citizen by next month. Many people assumed it was for the recent legalization of recreational marijuana in Canada but Snoop actually blamed politics. He told the media at his book launch that "Canada loves him and he loves Canada". He went onto say that he dislikes Trump and he wants to leave the United States because of him. Snoop mentioned that although he doesn't like Trump, its been made clear that Trump doesn't like him either.
Snoop Dogg said he would like to become a dual citizen by January 2019 and insisted many times to the media at the events that he is so serious about this. He proved his allegiance by then singing a rendition of our national anthem. He sang, "O Canada, let me in your home, so I can be a citizen."
But is becoming a dual citizen in a months time realistic? Not at all but Snoop Dogg has options. In order to become a Canadian citizen or hold a dual citizenship Snoop Dogg has to be a Canadian Permanent Resident first. Below are some requirements for Canadian citizenship:
1. Applicants for Canadian citizenship have to be over the age of 18, and permanent residents.
2. These permanent residents must live in Canada for three of the four years before their application, or 1095 days. You do not have to be a permanent resident for all of this time, but the time spent as not a permanent resident only counts as half days.
3. To apply for citizenship you must be able to speak basic English or French, which are Canada's official languages. You could be asked to undergo a language test as a part of your citizenship application.
4. Demonstrating knowledge of Canada is an important part of Canadian citizenship applications, and in doing so you will have to pass a Canadian citizenship test. The test will be on things like your rights and responsibilities as a Canadian citizen, as well as things like Canada's history, geography, government and symbols.
Snoop Dogg isn't the first celebrity to start their move to Canada there have been several that decided to have a life in both the US and Canada such as Michael Buble, Rachel McAdams and Mark Wahlberg.
Are You Interested in Immigrating to Canada?
If so, Contact VisaPlace today. All our cases are handled by competent and experienced immigration professionals who are affiliated with VisaPlace. These professionals consist of lawyers, licensed paralegals and consultants who work for Niren and Associates an award winning immigration firm that adheres to the highest standards of client service.
Ready for the next step? Book your 1 on 1 consultation now or call us at 1-888-317-5770.
Have a Question related to your Immigration Needs?
Click here to fill out the FREE Immigration Assessment form below and get a response within 24 hours to see if you're eligible.
The assessment form should take approximately 5-7 minutes to complete. We will get back to you within one business day to let you know if we are able to help.