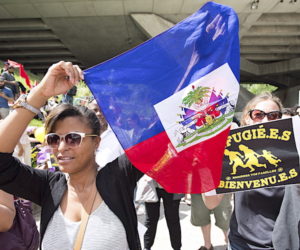 New Rules for Haitian Immigrants
As has been reported, the Canadian government has introduced new rules to ease the immigration of Haitians affected by the tragic earthquake. The earthquake, which was over 7.0 on the Richter scale, has left the country with devastation that was "instant, utter and widespread," Prime Minister Stephen Harper said last Saturday.
Priorities for Family Class Immigrants
Citizenship, Immigration and Multiculturalism Minister Jason Kenney has said that priority will be given to Canadians wishing to sponsor protected persons, family members and immigrants from Haiti.
However, the federal government's definition of "family" is causing protest from much of Canada's Haitian community. While Canadians can sponsor Haitian family members such as grandparents, parents, children and spouses, this does not extend to other relatives, including cousins, uncles and aunts.
"Immigration Canada will respond on a priority basis to those directly affected by the disaster," he said, "we will prioritize processing of new sponsorship applications made by Canadian citizens." While the applications have been expedited, it is unclear how much faster the process will actually be. Minister Kenney also assured that the applicants must identify themselves as being significantly and directly affected by the earthquake, as well as meet standard admissibility requirements.
Rules for Haitian Temporary Residents to Canada Relaxed
Other ways Immigration Canada is planning on helping immigrants from Haiti include allowing temporary residents to apply to extend their stay without additional fees, granting temporary reprieve to Haitian nationals who are in the process of being removed from Canada, as well as offering implied status to those who have previously applied to prolong their status in Canada but have not yet been approved. Canada has also opened up a satellite immigration office in the Dominican Republic.
Immigration to Quebec for Haitians
The province of Quebec has since stated that they would try to open their door to more Haitian immigrants, but an agreement with the federal government will make it difficult to increase the quota for permanent residents, which is currently between 52,000 and 55,000 this year. Minister Kenney has addressed these suggestions, saying that Ottawa will neither increase the quota nor alter the definition of family, and he said this would be unfair to all other groups faced with hardship or disasters in their home countries, and even in an attempt to be more flexible, the government must abide by immigration law.
On Thursday, January 21, Quebec Immigration and Cultural Communities Minister Yolande James said, "I think when something like this happens it is important to be as flexible as possible, there is an understanding that we are really under an exceptional situation."
Fast Tracking Canadian Adoptions
Another way the government of Canada is attempting to help the people of Haiti is by fast-tracking the adoption process for Haitian orphans and other children that were already in advanced stages when the earthquake hit, and the first group of children is expected to make it to Canada by this weekend.
We applaud the Canadian government and Canada Immigration for taking decisive action for Haitians and their families in Canada.