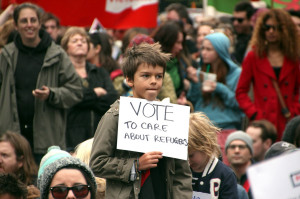 The Immigration and Refugee Act (IRPA) has recently come under scrutiny. Accusations claim amendments that were made back in 2012 put refugees in Canada in a vulnerable position.
Refugees In Canada and the Higher Risk of Deportation
The changes meant that anyone with refugee privileges in Canada (who did not yet have Canadian citizenship) may lose their status. They could also face deportation.
"Draconian"
The Canadian Council for Refugees described the changes to IRPA as "arbitrary, draconian and absurd."
They said the new laws which allow the Immigration and Refugee Board of Canada (IRB) to decide when an individual is no longer defined as a refugee.
Once that decision has been made, the refugee's Canadian permanent residency can be revoked before they're deported from the country. Before these amendments in 2012, a resident who held a permanent refugee status could still keep their residency status if they were no longer deemed to be a refugee.
Case Against Fraud
In 2012, the Minister of Citizenship and Immigration (at the time), Jason Kenney, said refugee and permanent residency status would only be at risk if there was clear evidence of defrauding the system.
However, this does not appear to be the case. An unprecedented number of refugees have since lost their status, along with the number of refugees referred to the IRB is increasing. Once referred, an individual's cases is reviewed and they could face the possible deportation.
Cessation
It's most common for refugees to lose their status due to cessation or in some cases, vacation. Cessation is applied when the Canadian government discovers the refugee has voluntarily once again taken up the protection of their original country, and is now under that protection.
However, the Canadian Council for Refugees is concerned that cessation is interpreted too loosely by the IRB. This leads to short visits back to a home country – including funerals or taking care of elderly relatives – as grounds for cessation.
Simple acts such as applying for a new passport from the refugee's original country could cause them to lose their refugee status and be deported. Vacation is a far less common grounds for a refugee to lose their status, and applies when the refugee has obtained their status via misrepresentation.
Growing Numbers
From 2009 to 2012, under 40 cases each year were referred to the IRB on the grounds of cessation or vacation. In 2013, the CBSA referred a total of 178 applications, and by the end of March 2014, 148 cases had been referred.
Are You or a Loved-One Facing Deportation?
If you are a refugee you may be able to remain in the country under the Humanitarian and Compassionate Application. This process is very complicated and certainly not guaranteed, but may provide you with a firm chance. If you are in need of immigration consultation, please contact us.