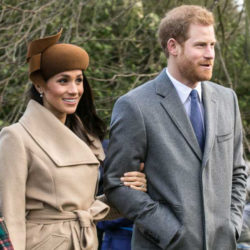 On January 8, 2020, the Duke and Duchess of Sussex announced their plans to resign as senior members of the British Royal family. They plan on supporting the monarchy but will be stepping away from their public duties to focus on becoming financially independent. Presently, the couple has announced that they plan to split their time between the UK and North America where they will focus on their charity work and raising their young son, Archie. At first, it was not specified which North American country the pair would be moving to but Canada was a strong contender. The couple had spent the holiday season in Canada, they recently left their son Archie with a nanny in Canada while visiting London and Meghan has previously lived in Canada. However, after the Queen's recent statement it appears that the couple has the Queen's approval to move to Canada. This follows face-to-face meetings held between the queen, Prince Charles, Prince William, and Prince Harry.
Although the couple may have the permission of the Queen to move to Canada, Prime Minister Justin Trudeau stated on January 13, 2020, that there are still many details regarding the Royals' immigration to Canada, namely the security costs associated with the pair, that need to be sorted out. Presently, the general atmosphere in Canada is receptive to the Royals spending a portion of their year in Canada and there is a general appreciation of the couple. At the moment, the Canadian government has not yet been approached by the royal couple.
While announcing their decision to step away from their roles as Senior Royals, the couple has stated they wish to become financially independent. However, it is not clear how they plan on achieving this goal.
What Does This Mean For Canada?
Unlike in Australia and New Zealand, which still recognize the laws of royal succession, Canada does not recognize them. Therefore, Harry would have no clear legal standing in Canada. This means that in the strictest sense, Harry and his young family would need to go through normal immigration procedures.
Although initial data suggests that Canadians would be interested in having the royal couple live in Canada, these polls do not take into account the potential costs associated with the couple's security costs. The pair reportedly spends over a million dollars a year on security which could fall to the taxpayers to cover. Currently, Canadian taxpayers will cover the security costs of visiting royals. However, in stepping away from his role as a Senior Royal and planning on living in Canada on a more regular basis, Harry would not be in Canada on official royal visits. He also does not meet other requirements to be considered an Internationally Protected Person. Therefore, he would likely be required to foot the cost of his security.
What Are Possible Immigration Options For Meghan and Harry?
At the moment, it is not clear exactly how Meghan and Harry plan on immigrating to Canada. Like many people deciding to immigrate to Canada, the Sussex family will need to decide if they plan on residing in Canada temporarily or on a more permanent basis. Once this decision has been made, the best immigration path for them can be assessed. The couple could also attempt to use their royal status as a means of obtaining permanent residency, however, this would be politically risky in a country that values fairness in its immigration programs.
The Permanent Residency Options:
At the moment, it is not clear if Meghan Markle already holds permanent residency in Canada. She lived in Canada for several years and may have already applied for permanent residency. If she does have permanent residency, than she will be able to sponsor Harry through Canada's Family Sponsorship programs.
However, if Meghan does not have permanent residency, she and Harry will need to explore other routes to permanent residency. The most popular Canadian immigration option is Express Entry. This path is designed to fast track applicants towards Canadian permanent residency and awards points for the qualifications an applicant holds. Periodically, an Express Entry draw occurs and the people selected can apply for permanent residency. This system favors skills and higher education. This might work against Harry as he does not hold a college degree. However, Meghan is a graduate of Northwestern University. Therefore, it may be possible for Meghan to apply for the Federal Skilled Worker Category under Express Entry because of her education, age and work experience.
There is also the provincial nominee program which is a potential option for Harry and Meghan. This option uses the Express Entry system but allows individual provinces to select candidates that will benefit their particular economy. This option would be best if the Sussex family knew which province they wanted to settle in permanently. However, the same factors that could work against the pair in Express Entry would also play a role in provincial nominee programs.
Unlike other families immigrating to Canada, Meghan and Harry are reportedly very wealthy. This wealth could open avenues in the business and investor visa arenas. There are four main business visas/ programs available: Immigrant Investor Program, Startup Visa Program, Self- Employed Person Program and Business provincial nominee programs. These programs can then lead to permanent residency. Given the couple's goal of becoming financially independent, opening and running a successful business in Canada could be a great way for them to meet this goal while becoming permanent residents.
Temporary Options: If the Sussex family decides that they do not wish to take the permanent residency route, there are still options open to the couple. British and American citizens can visit Canada for up to six months. IF they wish to stay longer they must apply for visitor visas. The first option available to the couple is to simply leave Canada before their six months is up. This option would mean that the family would not have the legal ability to stay in Canada for extended periods which could become challenging as their young son, Archie, reaches school age.
The couple would also be able to explore the possibility of work permits. Work permits are granted to immigrants so that they can legally work in Canada. Work permits can lead to permanent residency but they do not need to. This is a potential option if Meghan wishes to return to work in Canada.
Are You Interested in Becoming a Canadian Citizen?
If so, Contact VisaPlace today. All our cases are handled by competent and experienced immigration professionals who are affiliated with VisaPlace. These professionals consist of lawyers, licensed paralegals, and consultants who work for Niren and Associates an award-winning immigration firm that adheres to the highest standards of client service.
Ready for the next step? Book your 1 on 1 consultation now or call us at 1-888-317-5770.
Have a Question related to your Immigration Needs?
Click here to fill out the FREE Immigration Assessment form below and get a response within 24 hours to see if you're eligible.
The assessment form should take approximately 5-7 minutes to complete. We will get back to you within one business day to let you know if we are able to help.