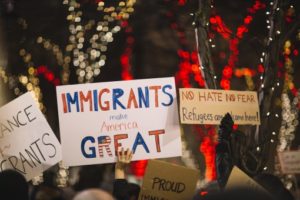 Yes, the Midwest Needs Immigrants, Here's Why
A recent report written by demographer Rob Paral states "For the cities of the Midwest, restricting current immigration levels is the last thing they need: an unnecessary tourniquet applied to a precious supply of regional residents and workers." Immigration has helped plenty Midwestern cities semi-reverse years and years of population loss among native-born residents. In a new study that Paral has taken forth, he documents the critical role immigration has played in moving the trajectory of overall population growth and the decline in the largest Midwest cities since the return of the 20th century.
Paral's most recent research supports the political message of his previous work. The research shows that a wide range of communities and people across the Midwest are relying on immigration to preserve their populations and allow their economies to continue to flourish. "Cities of the American Midwest were largely built by immigration," Paral writes. "Immigrants and their children were a key component of the population growth these cities experienced." Paral looked at 13 large cities across the region and was able to determine that immigrants accounted for roughly one-fourth of their entire population in 1920. With that being said, children of immigrants commit to nearly another two-fifths of the total. However, by 1950, immigrants provided only about one-sixth of the population in the same cities like Chicago, Cleveland, and Detroit. Of the 13 cities, all but Omaha suffered losses in their native-born populations from 1970 through the five-year stretch between 2011 and 2015. Paral calculated that Minneapolis, St. Paul, and Milwaukee each lost about one-fifth of their native-born population over that period and Toledo, Chicago, and Akron lost a little over one-fourth each. Cincinnati lost just over one-third and Detroit, St. Louis and Cleveland lost about half.
These cities have begun to find hope again since the federal 1965 Immigration and Nationality Act reopened the pathway to mass immigration. This has allowed many of these towns to increase their foreign-born populations once again. Alluring immigrants has become a central economic-development approach for many Midwest cities. The places with active programs to draw immigrants in, range from large community centers to even the smallest areas. Many of them hold events to celebrate links between immigrant and native-born communities to show the importance it has in Midwestern cities.
Trump recently commended legislation from Republican senators Tom Cotton of Arkansas and David Perdue of Georgia that would cut legal immigration in half. Many Republicans that find themselves in Southern, Plains, and Mountain West states are finding themselves in support of these immigration restrictions merely because they are not affected by large-scale immigration and are only accustomed to small immigrant populations. The difficult factor taking place is, any Midwestern Republicans pushing to lessen legal immigration could face a substantial amount of resistance from local GOP officials.
Do you want to work in the US in 2021?
Fill out our FREE online immigration assessment, and we will get back to you within 24 hours.
WE WANT YOUR FEEDBACK! 
Do you think there should be more immigrants in the Midwest?
Comment below, we want to hear your opinion hear your opinion!