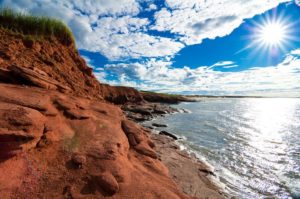 What It's Like to Live in Prince Edward Island for Newcomers
The hustle and bustle of cities are nothing you have to worry about in Prince Edward Island. Living in PEI gives you the small town feel, absolutely no rush hour, short drives to everything needed, low crime rates and great quality of education. As Canada's smallest and least populous province, Prince Edward Island is home to only 140,000 people.  Prince Edward Island's capital and largest city is Charlottetown, with 40,000 people. PEI welcomes immigrants through several programs but most immigrants come to PEI through their Provincial Nomination Program. There are four categories in P.E.I.'s Provincial Nomination Program: Investors, Entrepreneurs, Skilled Workers, and those with connections to the island.
Learn about life in Prince Edward Island for immigrants below:
Top 5 Reasons Immigrants Move to Prince Edward Island
Why the Locals Love PEI!
The PEI Relaxed Lifestyle

The pace is much slower than a fast city life which will leave you relaxed. Even though it is not a tropical island, Prince Edward Island definitely lives up to the island lifestyle. Many of the locals are extremely laid back, on island time, and very friendly. PEI will make you want to kick back and relax without a concept of time.

The PEI Walking Distance

Most towns in PEI are great for those who want to walk to their daily tasks. Most towns and cities are very cozy where everything is close by. For example within Summerside — "Harbourfront Theatre, College of Piping, Holland College, Silver Fox Curling & Yacht Club, cute coffee shops, delicious bakeries, great pubs & restaurants with live entertainment, local shopping and Credit Union Place (large facility with a pool, bowling, gym, restaurant, casino, live harness racing, skating rinks and major concerts and events venue).  There is no rushing to get from one place to another as you can access all your daily needs within walking distance."

The PEI Living Costs


If you are interested in immigrating to Charolettetown you'll be surprised to see that it is small town with a big city feel without the big-city hassles such as traffic and overpopulation. You'll also be surprised to see that the housing cost are generally lower than any city.

The PEI Education System

PEI has a great reputation for their public educational system for elementary and secondary schools. Within the island there are 62 public schools offering kindergarten to grade 12. There are also 6 schools that directly, only speak French. There are 5 universities on the island: University of Prince Edward Island, Holland College, Maritime Christian College, Saint Dunstan's University, and College de I'lle.

The PEI Seafood

If theres one thing that everyone who lives in PEI knows is that it is a seafood hub. Many people visit PEI for its world-renowned seafood which makes it another livable luxury for those who live here. Depending on the season you can watch fishing boats sail in and unload lobsters, crab, scallops, fish of all sorts, then see them prepare them for a meal right in front of you. Since PEI is completely surrounded by water locals always known at least one, two or two dozen fishermen.

BONUS: The PEI Golf

Although this only speaks to a small amount of immigrants that come to PEI, it is a big reason many people love living here! Prince Edward Island is the place to golf. Charolettetown boasts the lovely Belvedere Golf Club and there are approximately 25 course island-wide. If you didn't know golf before, you'll love to learn on this beautiful island!
Immigrants Living in Prince Edward Island
According to a study done by CBC immigrants who arrived in PEI before 2001 preferred to live in more rural, quiet areas but recently in the new century that trend has changed dramatically. 2016 census numbers released Wednesday by Statistics Canada show 2,180 of the immigrants who arrived between 2011 and 2016 lived in Charlottetown on July 1, 2016, and just 1,180 chose to live in the rest of the province. On census day, 48% of Prince Edward Island's immigrants lives in Charlottetown.
Where Newcomers Eat and Drink in Prince Edward Island
Locals who live on Prince Edward Island are taken by surprise when their little island is left off the map for Canada's best food. It's almost insulting when you realize how many culinary masterpieces are packed onto PEI. Prince Edward Island is known for their potatoes and lobster but believe me thats not all they have to offer. With immigrants moving to PEI their food industry has expanded beyond their famous seafood.
Best Restaurants in Prince Edward Island
1. New Glasgow Lobster Suppers – Old-fashioned lobster supper with all the fixings.
2. The Brickhouse – Upscale casual, with burgers and tacos sharing the menu with miso salmon.
3. Claddagh Oyster House – Seafood-heavy pub classics done with fresh veg and a bit of flair.
4. Skip's Fish n' Chips – Classic and casual offerings from a traditional fish-n-chips shack
5. Red Island Baked Potato – P.E.I. is known for its potatoes, and this restaurant embraces this legacy with a simple menu of a variety of baked-potato offerings.
6. Sims Corner Steakhouse – Local steak and oysters are the specialities but you'll also find fresh veggies, tons of potato options, and a variety of seafood.
7. FireWorks at the Inn At Bay Fortune – Much of it comes from the organic farm and herb gardens on site, and the rest is sourced from local producers. The Food Network's Chef Michael Smith filmed his first cooking show here.
8. Blue Mussel Cafe – Fresh, local, seasonal seafood with no frying.
9. Point Prim Chowder House – New Englanders aren't the only ones who can do chowder! Port Prim does it several ways along with other local seafood and affordable entrees.
10. Richard's Fresh Seafood – Sometimes the simplest food is the best, and Richard has that down: you'll find seafood classics, done right.
11. Malpeque Oyster Barn – Fresh seafood — especially oysters — and other local P.E.I. offerings.
12. Prince Edward Island Preserve Company – Before you pick up local preserves to go, stop by the restaurant for country breakfast.
13. Hopyard – It's really more about the beer here, with the best collection of craft brews on the island. But you'll also find a frequently changing menu with international inspiration and an in-house turntable and record collection.
according to the Huffington Post
Where Newcomers Shop in PEI
When people come to live in Prince Edward Island they aren't coming for a typical place to live because this place is anything but typical, it is unique. Unique is how you can describe the shopping experience you have on PEI. Many natives and newcomers are artist and craftspeople who are busy year-round creating one of a kind treasures for tourists and locals. There are four malls on the island: The Confederation Court Mall, Charlottetown Mall, County Fair Mall, and the Down East Mall. There is also a shopping center called the Cavendish Boardwalk which is known to be the best shopping experience on Prince Edward Island consisting of many stores and restaurants.
Events in PEI
Prince Edward Island has many festivals focused around theatre and music. The arts are very important to the locals in PEI. PEI hosts numerous events and festivals throughout the year including the Charlotte Festival (featuring the original stage production of the musical Anne of Green Gables), and the island-wide Fall Flavours food festival. There's always something new happening, particularly during the warmer months. This is a great opportunity for immigrants and newcomers to get involved with the community.
Indian River Festival: The Indian River Festival offers a summer-long series of concerts set at the historic St. Mary's Church in Malpeque Bay. Experience classical, maritime, jazz, folk/roots, choral music and more. The festival features the finest artists from Prince Edward Island and all across Canada.
Charolettestown: Featuring the finest performers, designers, playwrights, composers, choreographers and directors, the Charlottetown Festival is a professional showcase of musical theatre, comedy and drama that has been running for over 50 years!
PEI Mutual Festival with Small Halls: With more than 50 performances through 14 days in June in almost 40 rural community halls, the Festival of Small Halls is a critically acclaimed traditional music and dance festival that has toes tapping across the Island.
Victoria Playhouse Festival: It's easy to see why The New York Times calls the Victoria Playhouse 'A Hidden Gem!' Nestled in Prince Edward Island's quaintest small town, Victoria-by-the-Sea – The Victoria Playhouse Festival has become a favourite entertainment spot for Islanders and visitors, featuring contemporary comedy, drama and musical concerts.
Sports to Play in Prince Edward Island
Since PEI is so small its no wonder that there aren't many professional sport teams in the province. They do have one professional team for basketball and one no longer active professional hockey team. Beyond these two professional sports locals do engage in sports such as baseball, curling, ice hockey, golf and soccer.
Basketball: The Island Storm is a Canadian professional basketball team based in Charlottetown, Prince Edward Island. The Storm plays its home games at the Eastlink Centre in Charlottetown.
Hockey: The Prince Edward Island Senators were a professional ice hockey team that played in the American Hockey League. The team was active in PEI for three years and is now called the Belleville Senators. The Belleville Senators currently play in Ontario. This is why you'll see many PEI locals wearing Senator gear!
Are you interested in living in Prince Edward Island?
If so, Contact VisaPlace today. All our cases are handled by competent and experienced immigration professionals who are affiliated with VisaPlace. These professionals consist of lawyers, licensed paralegals, and consultants who work for VisaPlace Legal an award-winning immigration firm that adheres to the highest standards of client service.
Ready for the next step? Book your 1 on 1 consultation now or call us at 1-888-317-5770.
Have a Question related to your Immigration Needs?
Click here to fill out the FREE Immigration Assessment form below and get a response within 24 hours to see if you're eligible.
The assessment form should take approximately 5-7 minutes to complete. We will get back to you within one business day to let you know if we are able to help.