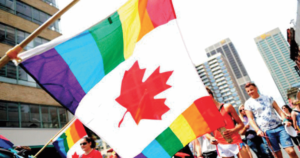 There are still many countries that do not support the LGBTQ2 community which can make it difficult for those to live their life in their own country. Canada has a history of providing a safe haven for those who are vulnerable. Canada has opened its arms to the LGBTQ2 community by providing a type of sponsorship to allow them to find refuge in Canada. (LGBTQ2 stands for Lesbian, Gay, Bisexual, Transgender, Queer, Two-Spirited)
How Canadian Immigration Helps LGBTQ2 People
Canada has a few ways that they have been able to help those in the LGBTQ2 community outside of Canada. One of the ways they have helped is by providing funding through the Rainbow Refugee Society. This society works with sponsorship agreement holders to sponsor LGBTQ2 refugees to come to Canada for safety. To be considered an LGBTQ2 refugee an individual must have been persecuted because of their sexual orientation, gender identity, gender expression or HIV status. If you are not being persecuted in your country you may qualify for same-sex sponsorship.
The LGBTQ2 Sponsorship Program
Under the Rainbow Refugee Assistance Partnership, there have been allowed 15 people who are fleeing persecution around the world per year to be sponsored. The Immigration Minister Ahmed Hussen made an announcement on June 8, 2019 that they will now be accepting up to 50 LGBTQ2 refugees! This announcement started off Pride Month in Toronto, Canada. "LGBTQ2 refugees have faced unimaginable circumstances just for being who they are. Canada will protect them and help keep them safe," he said in a statement.
'The program, a partnership between the federal government and the Rainbow Refugee Society, had been in a pilot phase since 2011 before Saturday's announcement.
It sees local groups support newcomers when they arrive in Canada, with the federal government providing three months of financial assistance and startup costs.
More than 80 LGBTQ2 refugees have been resettled in Canada under the program. The federal government is contributing $800,000 over five years to the initiative.' – Global News
"Rainbow Refugee and coalition partners applaud this commitment to protecting LGBTQ2 refugees," said Sharalyn Jordan, chair of the Rainbow Refugee board. "Together with LGBTQ2 communities across Canada, we create safer migration and supportive communities for refugees at extreme risk."
Are You Part of the LGBTQ2 and Want to Immigrate to Canada?
If so, Contact VisaPlace today. All our cases are handled by competent and experienced immigration professionals who are affiliated with VisaPlace. These professionals consist of lawyers, licensed paralegals, and consultants who work for Niren and Associates an award-winning immigration firm that adheres to the highest standards of client service.
Ready for the next step? Book your 1 on 1 consultation now or call us at 1-877-296-0874.
Have a Question related to your Immigration Needs?
Click here to fill out the FREE Immigration Assessment form below and get a response within 24 hours to see if you're eligible.
The assessment form should take approximately 5-7 minutes to complete. We will get back to you within one business day to let you know if we are able to help