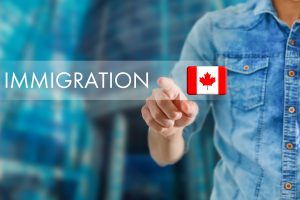 After COVID-19 caused a massive backlog in the processing of immigration applications and long delays for persons seeking status in Canada, Immigration Minister Sean Fraser says the government will be back on schedule by the end of the year. The government said last year that it will spend $85 million to process the backlog of applications, which Fraser says would primarily be used to recruit more people.
The extra immigration personnel will assist the government in meeting its stated turnaround periods for study and work permits, permanent residence renewals, visiting visas, and proof of citizenship applications.
"I should point out that these will not solve all of the problems with Canada's immigration capacity overnight, but they will start to make a difference. And some will start to make a difference very quickly," Fraser said
He believes that by the end of the year, the government will have cleared the backlog of permanent residence applications and would be able to process new applications more swiftly. The minister also vowed to update the government's website with more realistic processing timeframes so that individuals can have a better understanding of how long their application will take.
View current Canada Visa Processing Times.
Changes to the IRCC to Improve Processing Times
There are several changes in the IRCC that will be implemented to improve a person's experience. Mainly the biggest changes will be within permanent residents, temporary residents, and citizenship sectors.
The IRCC has done some internal updates to ensure that these changes happen. The IRCC has hired 500 new processing staff and is continuing to hire more employees. They have also invested in new technology and online options for processing applications. Lastly, they are addressing systemic barriers to ensure the programs and policies are fair, equitable, and culturally sensitive.
Permanent Resident Processing Changes
Move away from paper file inventory for permanent residence programs and phase out remaining paper intake.
Process new Family Class and Canadian Experience Class applications within our service standard.
Eliminiate exisiting permanent resident card inventories and enable clients to renew their permanent resident card online.
Expand the online permanent resident application portal to include more clients.
Citizenship Processing Changes
Reduce inventory of 60,000 clients awaiting their Oath of Citizenship ceremony.
Work towards scheduling the Oath of Citizenship ceremonies within 4 months of a final decision.
Reduce exisiting inventories for citizenship grants and proof of citizenship.
Temporary Residence Processing Changes
Reduce exisiting inventories and meet service standards for: Work Permits and Study Permits.
Reduce inventory for Visitor Visas.
Client Service Changes
Updating the processing times tool with up-to-date information.
Giving clients more information on the status of their application.
All information provided by the IRCC. See their infographic below: