Your Simple Guide to US Green Card Applications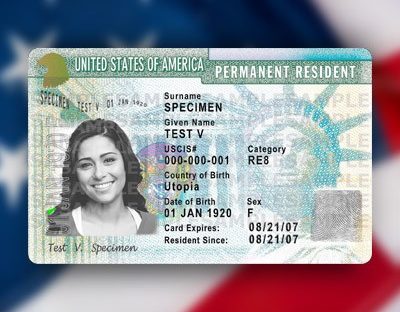 In the 19th century, the US was known as The Land of Opportunity. Immigrants believed the streets were actually paved with gold after hearing tales of how friends and relatives prospered in the new country. The US still attracts people who want access to greater economic opportunities. An important aspect of today's immigration process is permanent residency – one of the first steps to moving to the US.
Permanent Residency in the US: Getting a Green Card
To live and work in the US on a legal and permanent basis, you will need to apply for permanent residency status. When you obtain that status, the government will send you proof of your permanent residency in the form of a green card,  which in the past has been other colours, including blue and pink.
There are four ways to obtain your permanent residency status. One way is for your family to sponsor you. Anotherda way is to be sponsored by your employer. A third method is to apply for refugee or asylum status. The final option is to apply on your own.
Green Card Eligibility
Before you begin your application, you must determine whether you are eligible for permanent residency in the US.
You must first determine which immigrant category best describes you. There are several immigrant categories specified in the Immigration and Nationality Act.
The family-based immigrant category is for relatives of US citizens. You can apply for this category if you are the parent; spouse; or unmarried, under-21 child of a US citizen.
Another immigrant category is job-based. To apply for this category, you must either have a job offer or be employed by a US employer.
A third immigrant category is for refugees or asylum seekers. Refugees are people who have been persecuted because of their race, religion, nationality, political opinion, or membership in a particular social group. Asylum seekers are refugees who are already in the US and are requesting admission to the country at a port of entry.
There are still other ways to apply for a green card. You can apply for the Diversity Immigrant Visa Program, through which the US government makes 50,000 visas available to immigrants through a random selection of entries (the way a lottery operates) for people from countries with a low rate of immigration to the US.
Let's say you're not a citizen of the US, but your fiancé(e) is. You can apply as a K nonimmigrant. Your children from a previous relationship can also apply through this category, too.
Another way to apply for a green card is to obtain special immigrant juvenile status. This category is reserved for foreign-born children living in the US who have been abused, abandoned or neglected.
Eligibility and Admissibility
It's important to remember that eligibility for a green card is also based on admissibility to the US. Admissibility is based on separate factors.
Do you have a health problem that could pose a threat to American citizens such as tuberculosis? That might make you inadmissible to the US. A criminal background will also pose a barrier to admissibility, as will any security-related concerns (for example, if you were a member of an organization that carried out terrorist acts or supported terrorist acts).
The Next Step: An Immigration Petition
If you've determined that you fall into one of these categories and are admissible into the US, then you will most likely need to fill out an immigration petition.
The petition establishes that there is a basis for you to immigrate to the US. It also determines your immigration category. Depending on your situation, you might be able to petition on your own behalf. Otherwise, your sponsor will have to do that for you. Most refugees, asylum seekers, and other people trying to immigrate on humanitarian grounds do not need a petition.
Other Forms
Aside from the immigration petition, you will need to fill out forms and submit them to the US government in order to apply for a green card. There are filing fees that you must pay when you submit these forms.
If you don't fill out the forms completely or properly, US Citizenship and Immigration Services (USCIS) won't process them. Nor will they process them if you do not pay the filing fee. You must be honest, too. Should USCIS discover you withheld information or lied, your green card status will be in jeopardy.
Work with an Immigration Expert to Help Obtain Your Green Card
Applying for a green card can be challenging if you don't know whether you're eligible, or what your immigration category is (if any). An experienced immigration lawyer can help you navigate these challenges.
Are you interested in immigrating to the US or  Canada? Contact VisaPlace today.
All our cases are handled by competent and experienced immigration professionals who are affiliated with VisaPlace. These professionals  include lawyers, licensed paralegals, and consultants who work for Niren and Associates–an award-winning immigration firm that adheres to the highest standards of client service.
Click here to book a consultation with an immigration professional or fill out our FREE assessment and we will get back to you within 24 hours.
The content and comments of this blog are not legal advise and and may not be accurate or complete. If you require legal advice, contact a licensed legal practitioner directly. If you post on this blog, you assume full responsibility for disclosing your identity to the public and VisaPlace nor its affiliates are not responsible for protecting your privacy nor your identity concerning your participation in our blog and you assume any risks in participating.
Customer Reviews
Thanks to Alicea and Rania for their excellent service. This is the 2 nd time we are using them and they have always delivered successful results, even where other law firms has been unsuccessful. Alicea has been especially helpful and available to address all our concerns. She has an excellent work ethic. We will be using them again and always recommend them to our friends.
Migrating is a hard task for anyone. Finding a job is even harder. Once I got a job offer, things started moving rapidly. So, I called used VisaPlace (Niren and associates) to assist with the process. Rania and Richard deserve the utmost respect in getting the job done. They have been patient with me and some set backs. Very professional.! Hands down, money was well spent. Thanks Rania and Richard, you make an awesome team. You'll definitely have a repeat customer with me !! I was very impressed at how well they were organized and had a positive experience. Very good and professional work led to a successful outcome. I highly recommend using VisaPlace.
I'll like to say I had an awesome initial consultation with Rania Abboud. She was knowledgeable, made the initial process easy and understood my situation. I am excited and hopeful to continue consulting this company. You do a great job for immigrants. Also, Natalie Walcz was great, she handled my situation professionally. Great team. Definitely assets to your company.