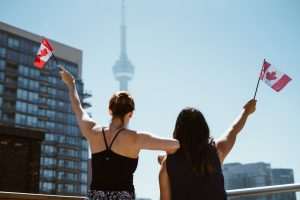 Although the ICT Program is a temporary visa, many people use it as a pathway to becoming a Canadian Permanent Resident. In some aspects, the ICT transferee's procedure of becoming a permanent resident (PR) is comparable to that of overseas students who come to Canada to study and later gain their permanent status through Express Entry or PNPs. Their Canadian work experience adds to their Comprehensive Ranking System (CRS) score if they are eligible to enter the Express Entry pool. As a result, the eligible ICT transferee has the option of staying in Canada indefinitely. Despite the fact that ICT is a temporary work permit visa, it might be a fantastic option for the transferee to seek Canadian permanent residency.
ICT to PR Process
Foreign employees or intra-company transferees have a good probability of becoming permanent residents of Canada. They have the option of becoming permanent residents if they so want. They will be able to settle and work in any part of Canada as a result of this.
Intra-company transferees might choose between two alternatives for becoming permanent residents. Express Entry and the Provincial Nominee Program are the two options.
The process for becoming a Canadian Permanent Resident from an ICT work permit depends on which program you choose: Express Entry or PNP. Learn more about those processes by clicking their appropriate links.
Do You Want to Change Your Status from ICT to Canada PR?
If so, Contact VisaPlace today. All our cases are handled by competent and experienced immigration professionals who are affiliated with VisaPlace. These professionals consist of lawyers, licensed paralegals, and consultants who work for VisaPlace Legal, an award-winning immigration firm that adheres to the highest standards of client service.
Ready for the next step? Book your 1 on 1 consultation now or call us at 1-888-317-5770.
Have a Question related to your Immigration Needs?
Fill out the FREE Immigration Assessment form and get a response within 24 hours to see if you're eligible.
The assessment form should take approximately 5-7 minutes to complete. We will get back to you within one business day to let you know if we can help.