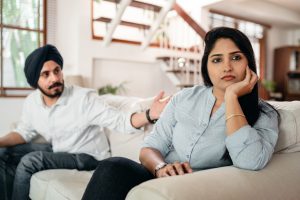 After marrying a U.S. Citizen a foreign national will get a "conditional" green card allowing them to reside in the United States as a permanent resident. This conditional green card expires in two years and within 90 days before that expiration date, the newlywed must file for a permanent green card jointly or separately. Filing a Form I-751 Waiver will allow the newly married foreign national to remain living in the United States without the help of their US citizen spouse.
Do I Need to File an I-751 Form?
The I-751 waiver is only required for those individuals who married a US citizen and want to stay in the US but can not file for a joint request to get their permanent green card. Typically people that decide to file an I-751 waiver can be those who:
their US citizen spouse is now deceased
divorced their spouse
emotional or physical abuse
or any other reason one may not want to move forward with their new spouse.
Required Documents for Form I-751 Waiver
The Northwest Immigrant Rights Project provided several ways to prove that a marriage was truthful and not fake. The following documents are some examples you can provide to prove your marriage was in good faith.
A "personal declaration" in which you describe, in great detail, how you met your spouse,
why you got married, and the feelings that you had or still have towards him or her, and why.
If you and your spouse have a child or children together, present the birth certificate for each child.
Wedding pictures and/or photographs of other moments when you and your spouse, and/or other members of your family and friends have been together.
Declarations (formal letters) from people who know you and your spouse and who can affirm that your marriage was based on sentimental or cultural ties, who witnessed your marriage ceremony, or who knew you as a married couple. These letters should include as many details as possible.
Letters that you received from your spouse while you were dating, separated, or during any other stage of your relationship.
Letters from people addressed to both you and your spouse, or in which the person who wrote the letter refers to both of you as a couple.
Papers with the names of both you and your spouse that show that you bought a car, a house, furniture, or something else together.
A rental agreement for your house or apartment with both of your names on it, or a letter from the building manager or owner proving that you lived together.
Letters or statements from a bank that show that you had or have a savings or checking account together.
Insurance papers that show that you were or still are covered by your spouse's insurance plan, or that your plan covers or covered him or her.
Bills, such as electricity, water, heat, cable TV, phone, or others that show both you and your spouse's names.
Income tax papers that show your name and your spouse's name.
An identification card that shows that you use your spouse's last name.
Applications or membership cards for video clubs, grocery stores, or similar businesses, that show joint membership for your and your spouse.
Any other documents you can think of to show that you did not get married just to get immigration papers.
Each document submitted for proof must be in English or have an English translation attacched. You must also inform the USCIS of your address change within 10 days if you moved out of your spouse's house. If you send any of these documents by mail make sure to send it through certified mail so you will have proof of receipt.
Process and Processing Time of the I-751 Waiver
Gather your paperwork and supporting documents
Your legal representation will make copies
Your legal representation will submit your documents, Form I-751, and filing fee
Your legal representation will receive a receipt notice
The receipt will extend your conditional status for 1 year
The USCIS will schedule your interview
Your representative will prepare you for your interview
You will be asked questions about why you are not filing jointly with your spouse
You will be granted lawful permanent residence in the US
Immigration Lawyer Can Help You File an I-751 Waiver
Most people who want to file an I-751 waiver decide to get legal representation because of the extensive requirements and documents. As you can see during the 10 step process of applying for the I-751 having legal representation is an important step. Getting an immigration lawyer to represent you can ensure you receive the best chance of getting your I-751 approved. Book a consultation today with our immigration professionals to discuss your case!