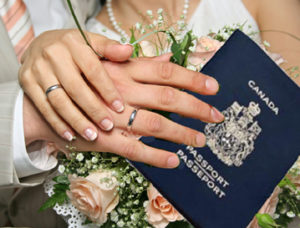 Canada is a country where one can avail easier regulations in case of marriage. In 2005, Canada became one of the few countries in the world to legalize same-sex marriage. It is the fourth country in the whole world to allow same-sex marriage. Since then, many same-sex couples from abroad have visited Canada to get married because their home countries will not allow it. Canada also allows marrying while on Visitor Visa in Canada.
Visiting Canada to get Married
People from other countries who wish to come to Canada to get married need to apply for a  Temporary Resident Visa or visitor's visa  For a list of countries whose citizens are exempt from needing a visitor's visa to enter Canada, click here.
You will also need to apply for a Canadian Marriage License before being married in Canada, which can be done online. You must first determine the city and province where you'd like to be married, and apply through their online marriage license services. For more information and a list of provincial websites, click here.
Being married elsewhere
If your home country does not recognize same-sex marriages, you will not be entitled to the same rights, freedoms and benefits that married couples will have despite having been legally married in Canada.
Earlier this year the issue of non-residents' marriages being legal in Canada made the news in a big way. Because a government lawyer said that if a same-sex couple's home country didn't recognize the marriage, it wouldn't be valid in Canada, the opinion appeared to come from the government itself. But this has since been confirmed to be a hiccup caused by unclear legislation and one person's opinion – your marriage is still very much legal in Canada.