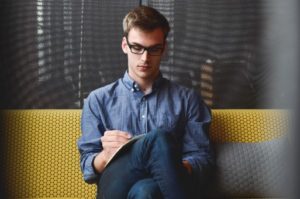 Can I work a Second Job while holding an H-1B Visa?
Many people supplement their personal finances with a second job. However, if you are working in the United States on an H-1B visa, you must be careful. The H-1B visa is a visa that requires a sponsorship from your employer. This means that if you receive a job offer from Facebook, they must sponsor your visa application. As a result, you are expected to work solely for them. This means  that supplemental forms of income may violate your visa. This violation could result in the termination of your visa.
Passive verse Active Income
Incomes fall into two categories: active and passive. Active income is the income that you actively work to make. This would include the work you do for your H-1B sponsor. It would also include any work done for a side business, or money earned through working odd jobs. A job is considered active if it meets the following criteria: you work more than 500 hours for the business during a calendar year, you do the majority of the work in a given year, or you spend more than 100 hours working at a job that has no other employees. Passive Income, on the other hand, is income that requires initial set up work and then earns income with little to interference by the worker. Examples of passive work are investments. However, day trading would be seen as active. Any other work undertaken by an H-1B holder that is considered active income could be seen as violating the conditions of the H-1B visa. Some forms of passive income maybe allowed, but with the recent scrutiny of H-1B visas, you should consult an immigration lawyer before engaging in those business activities.
Can I drive Uber, if I have an H-1B Visa?
Driving an Uber would likely be considered a second job. This is due to the amount of work done by the driver. As a result, you should not drive Uber while holding an H-1B Visa.
Can I rent my home on Airbnb, if I have an H-1B Visa?
Listing a room or home on Airbnb requires considerable work. As the owner of the property, you are responsible for cleaning the listing, meeting renters to deliver keys, and the general upkeep of the property. This amount of work would likely be seen as a second job, as a result it would probably be seen as a violation of the H-1B visa status. However, if you rented a room to lodger for an extended period of time, this might be allowable. It would be advisable speak with a lawyer before renting a room.
Can I sell products on Etsy, if I have an H-1B Visa?
Selling products on Etsy is considered a business operation and will not be allowed on your H-1B visa. If you already have a shop that you have been operating before attaining your H-1B visa, you may be allowed to retain ownership of the shop but you cannot sell products. If you are in this situation, it is advisable to speak to an immigration lawyer.
Can I sell products on Amazon/Ebay, if I have an H-1B Visa?
Selling products on Amazon or Ebay is considered a business operation and will not be allowed on your H-1B visa.
Why Seeking Professional Help for an H-1B Visa is Important
Applying for an H-1B visa requires a great deal of preparation, including assembling the proper paperwork, following the proper procedures and knowing where to file and when. H-1B visas are also subject to annual quotas, so its essential that your application is submitted on time. With so many specific and timely requirements to fulfill, successful H-1B applications are often achieved with the help of a legal expert. If you successfully aquire an H-1B Visa, it can be tricky to understand the nuances of your visa. We can help you with that as well.
Why Hire Us to Help You With Your H-1B Visa Application?
We have over 20 years of experience in handling H-1B visa applications, and we know what steps and details that immigration officers considering when deciding whether to approve or deny an application bid. We have helped thousands individuals enter the U.S. with H-1B visas, and we can help you too! The first step towards a successful H-1B application is getting an assessment of your case. Fill out our US immigration assessment form and we will get back to you within 24 hours to discuss your eligibility and options.
The above response is for informational purposes only and does not form a lawyer-client relationship nor should it be construed to be legal advice.