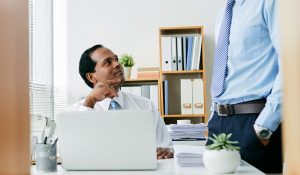 When applying for a job in the United States, employers are required to check that all prospective employees are allowed to legally work in the US no matter where they are from. Those who have immigrated to the United States and are interested in working will in most cases want to obtain an EAD Card also known as an Employment Authorization Document. This is a great way to prove that you are allowed to work in the US so you never have to face questioning or lack of documentation.
Related Article: US Work Visas
How to Apply for an EAD
To request an EAD, you must file a Form I-765, Application for Employment Authorization. Once you've received an EAD, you:
Are authorized to work in the United States because of your immigration status and need evidence of that employment authorization
Are required to apply for permission to work; in other words, you need to request employment authorization itself. For example:

You have a pending Form I-485, Application to Register Permanent Residence or Adjust Status.
You have a pending Form I-589, Application for Asylum and for Withholding of Removal.
You have a nonimmigrant status that allows you to be in the United States but does not allow you to work in the United States without first seeking permission from USCIS (such as an F-1 or M-1 student).
You do not need to apply for an EAD if you are a lawful permanent resident as a Green Card is evidence of your employment authorization. You also do not need to apply for an EAD if you have a nonimmigrant visa that authorizes you to work for a specific employer. These visas include:
Period of Stay
The combined travel and employment authorization card will be valid for one year if the applicant's immigrant visa is currently available. If the immigrant visa is not currently available, then the combined card will be valid for two years.
Employment Authorization for Dependents
When immigrating through visas like the H-1B, you are given the chance to bring eligible family members with you on an H-4 nonimmigrant visa. The H-4 visa is issued to qualifying family members who wish to accompany an H-1B visa holder but are not authorized to work. In other cases, having a spouse and/or dependent authorized to work can be vital so you may need to apply for an H-4 EAD.
How to Renew Your EAD Card
If you are still eligible for employment authorization but your EAD will be expiring or has expired, you should file for an EAD renewal by submitting a new Form I-765 and paying the associated filing fee unless a fee waiver is requested and approved.
How to Replace Your EAD Card
If your EAD is lost, stolen, or destroyed, you may request an EAD replacement by filing a new Form I-765 and paying the associated filing fee unless a fee waiver is requested and approved. If you did not receive an EAD that USCIS mailed, you can submit an inquiry on the non-delivery of a card.
Do You Need Help Applying For Employment Authorization?
If so, Contact VisaPlace today. All our cases are handled by competent and experienced immigration professionals who are affiliated with VisaPlace. These professionals consist of lawyers, licensed paralegals, and consultants who work for VisaPlace Legal an award-winning immigration firm that adheres to the highest standards of client service.
Ready for the next step? Book your 1 on 1 consultation now or call us at 1-877-296-0874.
Have a Question related to your Immigration Needs?
Fill out the FREE Immigration Assessment form and get a response within 24 hours to see if you're eligible.
The assessment form should take approximately 5-7 minutes to complete. We will get back to you within one business day to let you know if we are able to help.