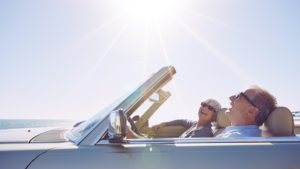 It's no secret that many Canadians of retirement age travel to the United States every year to spend the winter, but what about retiring in the United States permanently as a Canadian citizen?
Canadians Retiring in the United States
Unfortunately, no such retirement visa for Canadians exists, although it would be a great idea and very popular. Currently, Canadian citizens may only spend six months per year in the United States, which is why Canadians can own homes in the United States and spend the winters there. However, Canadian citizens cannot be visitors in the United States for longer than this, and after the six months they must return to Canada.
Become a Permanent United States Residence
If you want to move to the United States permanently, you must become a legal permanent resident of the United States – whether you are retiring or not. In this case, you will have to apply to become a permanent resident, or get a green card.
There are several ways in which you can do this. For example, if you are in the United States on a work permit your employer could sponsor you for permanent residence depending on the circumstances.
If you have family members who are American citizens or green card holders themselves, or a spouse who is the same, they could sponsor you for permanent residence.
Investment Visa for the United States
Another way Canadians of retirement age can apply for permanent residence in the United States is through investments and investor visas, such as E-visas. If you make an investment in a business you can apply for an E-2 visa, which is a visa that is good for five years. While the visa is only valid for five years, you can renew it.
In addition, there is also the E-B5 visa, which is also for investments and individuals of a higher net worth. This visa, unlike the E-2 visa, can lead to permanent residency in the United States.
We Can Help Canadians Retire in the United States
Retirement in the United States requires careful planning, so make sure that you have discussed your plans with a licensed immigration lawyer and other service professionals such as accountants.
The VisaPlace Group of Lawyers (VPGs) and their staff are all independent, licensed practitioners who understand how important it is for to you to achieve your immigration goals and have been trained to follow best practices and procedures to maximize your chances of success! If you have immigration questions about retiring in the United States, contact us to book a consultation.