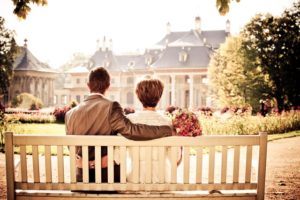 Spousal immigration is an important aspect of Canadian immigration and thousands of people apply under this category every year. If you have a spouse who is a Canadian citizen or permanent resident, he/she can sponsor you to immigrate to Canada under certain conditions. We receive thousands of familiar questions about the process. Our VisaPlace licensed immigration professionals answer your questions about Canadian Spousal Sponsorship.
Frequently Asked Questions about Spousal Sponsorship:
1) What are my options and how do I go about this process?
There are three options: spousal, common-law, and conjugal partners.
Spousal: Either member of a married pair in relation to the other; one's husband or wife.
Common-Law: Refers to a person who is living in an exclusive relationship with another person (opposite or same-sex), and has done so continuously for a period of at least one year.
You may apply for common-law partner immigration if you have the forms of proof of:
joint bank accounts or credit cards
joint ownership of a home
joint residential leases.
joint rental receipts,
joint registration or payments of utilities (electricity, gas, telephone),
joint management of households expenses,
joint purchases, especially of household items, or
mail addressed to either person or both people at the same address.
Conjugal Partners: A conjugal partner relationship exists where two people are in a marriage-like relationship but are not married and have not lived together for a period of at least one year due to extenuating circumstances or other reasons.
You may apply as a conjugal partner if: you have had a conjugal relationship with your sponsor for at least one year and you could not live together or marry because of an immigration barrier, or your marital status, or your sexual orientation
you can provide proof there was a reason you could not live together
2) How long does it take for CIC to process my application?
Normal processing times are 6-12 months. It can take less or more depending on each case. Currently, due to COVID-19 there may be a delay in the processing time. Find out more about Spousal Sponsorship in Canada and COVID-19.
3) For spousal application, do I need to get married first?
Yes, you need to get married first and have to provide your legal marriage certificate as proof of marriage. Record of solemnization or marriage license is not acceptable.
4) What About for common-law?
You don't need to get married but you need to prove that you have at least 1-year cohabitation with your partner. This is very important.
5) What if I don't have some of the documents required on the checklist?
You can try your best to provide any other additional document you have that may resemble the checklist documents. If not, you need to provide a detailed explanation of why you don't have those documents.
6) Do I need to provide police clearance and medical examination upfront?
Because these documents are difficult to obtain and police clearance takes some time. No, police clearance and medical examination are not required upfront and are requested 1-2 months after submission of application.
7) Who needs police clearance and medical examination?
Only the applicant and dependent child (if applicable).
8) What are the chances my application will get refused?
It is very important that you can prove your relationship is genuine. This is the core consideration factor when CIC is evaluating your application. As a result, it is important that you meet the document checklist requirements and if you don't, you provide a detailed explanation.
9) Can Same-Sex couples apply for sponsorship?
Yes. Same-Sex couples can apply for spousal sponsorship just as opposite-sex couples can. Canada is typically a high interest for same-sex immigration because Canada is openly accepting of the LGBTQ community.