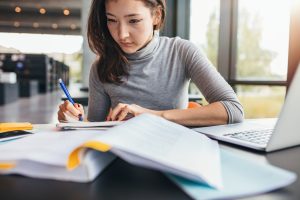 When you're applying to immigrate to Canada as a skilled immigrant or through Express Entry you must prove your language skills by taking an approved language test. To gain a Canadian visa you will need to show your English and/or French abilities to the IRCC. There are 3 types of tests:
IELTS (International English Language Testing Program).
CELPIP (Canadian English Language Proficiency Index Program)
TEF (Test d'evaluation de Francais)
Related Article: How To Immigrate to Canada Without A Language Test
IELTS Language Test
The International English Language Testing Program (IELTS) is the world's most popular high-stakes English language test, with over 3 million tests taken a year. All Canadian universities and colleges in Canada accept IELTS. There are two categories within the IELTS:
Click here to learn more about the IELTS test and how to prepare!
What Should I Score on the IELTS?
The minimum score for the IELTS depends on which visa you are applying for and the organization where you plan to study or work. Find out what score you need for your chosen organization here with the IELTS Score Calculator. The IELTS exam will score your English proficiency on a scale from 1-9 in four skills: listening, reading, writing, and speaking.
Where Do I Take the IELTS?
You can take an IELTS test in more than 150 locations across Canada. There is a test center in each province's capital city and in many regional cities. IELTS tests are available on Thursdays and Saturdays up to four times per month, 48 times per year – and test dates are available up to a year in advance.
How To Study for the IELTS Test
Before taking the test make sure you are ready to demonstrate your English language skills. Familiarize yourself with the format of the test by reviewing the content of the test, as well as the question and task types for each section. It's also important to read through the IELTS rules and regulations. These are laid out in the Notice to Candidates and Declaration which are included in the application form. There are several practice tests that will give you an idea of what to expect in the listening, reading, writing and speaking tests.
Consider a Preparation Course
If you would like assistance with test preparation, IELTS centers and language schools around the world offer IELTS preparation courses. You don't have to attend a preparation course, but many test-takers find that doing so helps them improve their performance. Talk to your local IELTS test center to find out more.
CELPIP Language Test
The Canadian English Language Proficiency Index Program (CELPIP) is an English language proficiency test designated by the IRCC for Canadian permanent residents and citizenship. The test provides valid and reliable measurement of a test taker's English abilities in a variety of everyday situations, such as communicating with co-workers and superiors in the workplace, interacting with friends, understanding newscasts, and interpreting and responding to written materials.
There are two versions of the CELPIP Test:
CELPIP-General Test
CELPIP-General LS Test
How To Take: When you have signed up to take the CELPIP test, you will be notified of when and what testing center you are to take your exam. This test is completely online but has to be completed in-person at a testing center.
TEF Language Test
Created in 1998 by the French Language Centre of the CCI Paris Ile-de- France, the TEF (Test d'Evaluation de Français) is an international benchmark test that measures your level of knowledge and skills in French.
How To Take: The TEF is conducted electronically (computer-based) or in print. No prior degree is required to sit the exam. The candidate must 16 years and up.
What To Score: The goal of TEF is to evaluate the French skills of the candidate using a scale of 7 levels that range from 0+ level ( basic skills) to level 6 (complete control). This scale refers to:
• 6 skill levels A1 to C2 of the Common European Framework for Languages (CEFR) of the Council of Europe
• 12 Canadian Language Benchmarks (NCLC-niveaux de compétence linguistique canadiens).
Need Canadian Immigration Help?
If so, Contact VisaPlace today. All our cases are handled by competent and experienced immigration professionals who are affiliated with VisaPlace. These professionals consist of lawyers, licensed paralegals, and consultants who work for VisaPlace Legal an award-winning immigration firm that adheres to the highest standards of client service.
Ready for the next step? Book your 1 on 1 consultation now or call us at 1-888-317-5770.
Have a Question related to your Immigration Needs?
Fill out the FREE Immigration Assessment form and get a response within 24 hours to see if you're eligible.
The assessment form should take approximately 5-7 minutes to complete. We will get back to you within one business day to let you know if we are able to help.