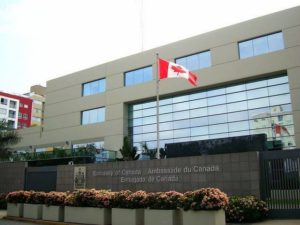 Below, we have provided you with all of the information needed to reach the Canadian Embassy in Peru. The embassy is located in Lima. The office can provide passport assistance and emergency services, as well as notarial services to Canada's citizens.
Having the contact information of the nearest embassy or consulate handy is helpful when it comes time to renew or review documents such as visas and passports, or consult officials on matters regarding Canada. Learn more about migrating to Canada from Peru.
Canadian Embassy in Peru – Lima
Street Address:
The Canadian Embassy
Visa Section
Calle Jose Galvez 634
Miraflores
Lima 18, Peru
Mailing Address For Canadian Embassy in Peru
The Canadian Embassy
Visa Section
Casilla 18-1126
Lima 18
Peru
Tel.: (51-1) 319-3200
Fax.: (51-1) 446-4775
E-mail Address: lima.immigration@international.gc.ca
Website: www.canadainternational.gc.ca/peru-perou/
Additional information about this Canadian Embassy in Peru:
The Canadian Embassy in Peru is also responsible for handling visa and immigration processes from surrounding countries including Bolivia.
Immigration from Peru has almost doubled in the last 10 years. In 2000, 600 people from Peru were granted permanent residency visas in Canada. In 2008, almost 1,100 were granted. Peru is also a major trading partner of Canada, and is in fact the second largest in all of Latin America, including the Caribbean.
Should You Contact a Lawyer First…?
It is important to remember that when applying for Canadian Immigration, you are required to submit your application to the Canadian Embassy of your nationality. However, there are some exceptions to this rule. You should always contact an immigration lawyer to assist you with the procedures associated with the Canadian Embassy of your region because the Canadian Embassy in Peru may have its own set of special rules and procedures.
Are You Interested in Immigrating to Canada?
If so, Contact VisaPlace today. All our cases are handled by competent and experienced immigration professionals who are affiliated with VisaPlace. These professionals consist of lawyers, licensed paralegals and consultants who work for Niren and Associates an award winning immigration firm that adheres to the highest standards of client service.
Ready for the next step? Book your 1 on 1 consultation now or call us at 1-888-317-5770.
Have a Question related to your Immigration Needs?
Click here to fill out the FREE Immigration Assessment form below and get a response within 24 hours to see if you're eligible.
The assessment form should take approximately 5-7 minutes to complete. We will get back to you within one business day to let you know if we are able to help.