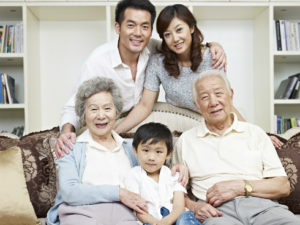 Visit our page on the Parents and Grandparents Program in 2021.
January 9, 2020 Update: The Grandparent and Parent sponsorship program has been postponed in order to evaluate the effectiveness of the current program. Currently, the program works like a ticket lottery. You must be ready to log in and complete an application the moment the program opens. The goal is to submit your application to the program before it fills. Once the program cap is reached, typically this occurs within the hour, the applications are evaluated by the government. Even if you have successfully entered the applicant pool, there is no guarantee that your application will be approved. Currently, there is not a waiting list system in place that would allow other hopeful applicants to enter the pool if an application is rejected. 
The pitfalls in the current system can be demonstrated in the case of a University of Calgary assistant law professor's situation. Gideon Christian has been attempting to sponsor his mother to Canada for seven years. Currently, his mother lives in the United States as a permanent resident. In 2018, he believed that wait was over but found that his mother's application had been sent to Ghana rather than the US. Currently, while waiting for his mother's family class sponsorship case to be processed, the Canadian immigration office has issued a statement regarding wait times. The statement explained that Christian's mother's wait time was still within the 20-24 month waiting period that is typical of this type of immigration. 
January 1, 2020 update: The Canadian government has decided to postpone the parents and grandparents program. This will give all interested sponsors the same opportunity to submit an interest to sponsor form and a fair chance to be invited to apply. Stay tuned for more updates on the Parents and Grandparents sponsorship program in 2020.
There are many requirements and lengthy application processes for Family sponsorship to Canada. Allow VisaPlace to help you through this process and help your family reunite in Canada quickly. Book a consultation today to speak with an immigration professional about your case!
Requirements to Parent and Grandparent Sponsorship Canada in 2021
You may be able to sponsor your parents and grandparents to become a permanent resident if you're at least 18 years old and a:
Canadian citizen or
a person registered in Canada as an Indian under the Canadian Indian Act or
permanent resident of Canada
If you sponsor your parents and grandparents to come to Canada as a permanent resident, you must:
support them financially.
make sure they don't need social assistance from the government
provide for your own essential needs and those of your parents and grandparents and their dependents
Your responsibilities
When you sponsor your parents and grandparents to become permanent residents of Canada, you must:
meet certain income requirements
support that person and their dependents financially
You and the sponsored relative must sign a sponsorship agreement that:
commits you to provide financial support for your relative (and any other eligible relatives accompanying them):

for a period of three to 20 years
depending on their age and relationship to you
beginning on the date they become a permanent resident

states that the persons becoming permanent residents will make every effort to support themselves
Dependent children under age 19 do not have to sign the agreement.
Quebec residents must sign an "undertaking" with the province of Quebec. This is a contract that binds your sponsorship.
How Much Money Does a Sponsor Need to Sponsor a Parent or Grandparent to Canada
If you are sponsoring a parent or a grandparent, you must meet the minimum necessary income requirement for each of the three taxation years immediately preceding the date of your application. The minimum necessary income requirement is equal to the Low Income Cut-offs (LICOs) plus 30%, taking into account the number of family members for whom you are or will be financially responsible.
Who Isn't Eligible to Sponsor a Parent or Grandparent
You may not be eligible to sponsor your parents and grandparents if you:
are in prison
defaulted on an immigration loan (late or missed payments)
have declared bankruptcy and haven't been released from it yet
received government financial assistance for reasons other than a disability
didn't pay a court-ordered support order, such as alimony or child support
didn't provide the financial support you agreed to when you signed a sponsorship agreement to sponsor another relative in the past
were convicted of a violent criminal offense, any offense against a relative or any sexual offense, depending on circumstances, such as:

the nature of the offense
how long ago it occurred
whether a record suspension (formerly called "pardons" in Canada) was issued
Other factors not in this list might also make you ineligible to sponsor your parents and grandparents. This is why it is important to hire an immigration lawyer to ensure you are eligible to sponsor before you waste time and money.
Looking For Help With Your Parent and Grandparent Canada Application?
If you and your family member(s) are thinking of applying for the parents and grandparents program, we can help. Completing the required documents and including the necessary support materials and fees are essential steps when applying to Immigration Canada.
We can assist in presenting a good case and ensure that everything is done correctly to maximize the chances of a successful sponsorship application, as well as your parents' or grandparents' chances when applying for permanent residence.
To get started, simply fill our free online immigration assessment form here or contact us here. Once you fill out that form, we will get back to you (within 24 hours) to discuss your eligibility and immigration options.