So far in 2017, there have been 19 round invitations under Express Entry. There were 2,991 invitations issued to individuals seeking permanent residency in Canada in the last round. Candidates from the Federal Skilled Worker Program, Federal Skilled Trades Program, Canadian Experience Class and Provincial Nominee Program were eligible for this round of invitations.
The Canadian Immigration and Citizenship authorities rank candidates in the pool using a points-based system called the Comprehensive Ranking System (CRS). The CRS will rank individuals on core/human capital factors such as age, a level of education, official languages proficiency, and Canadian work experience. You can find tips on the best ways to improve your CRS score here.
In the most recent round, the 19th in 2017 and the 69th overall, it held a low Comprehensive Ranking System score of 433, higher than most 2017 rounds.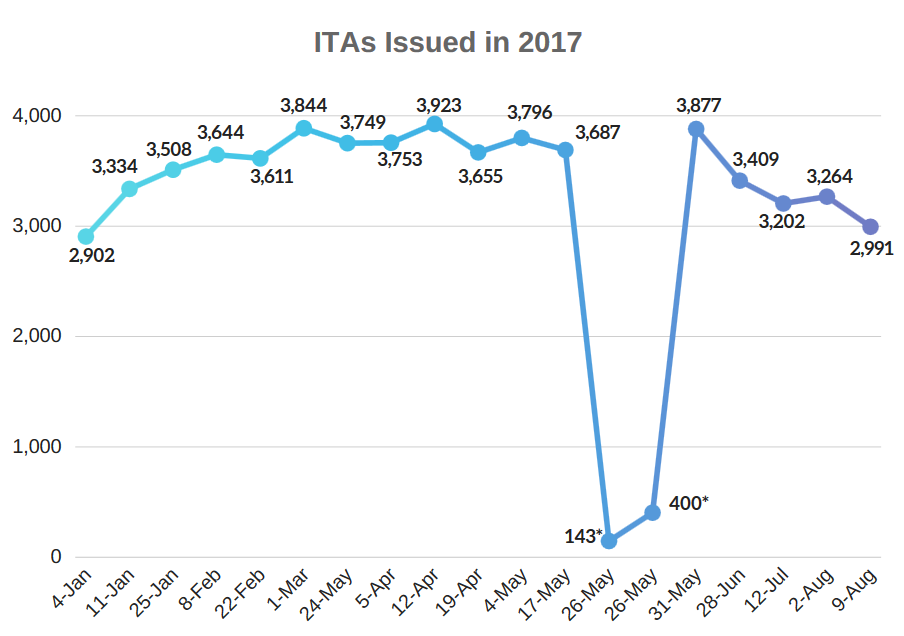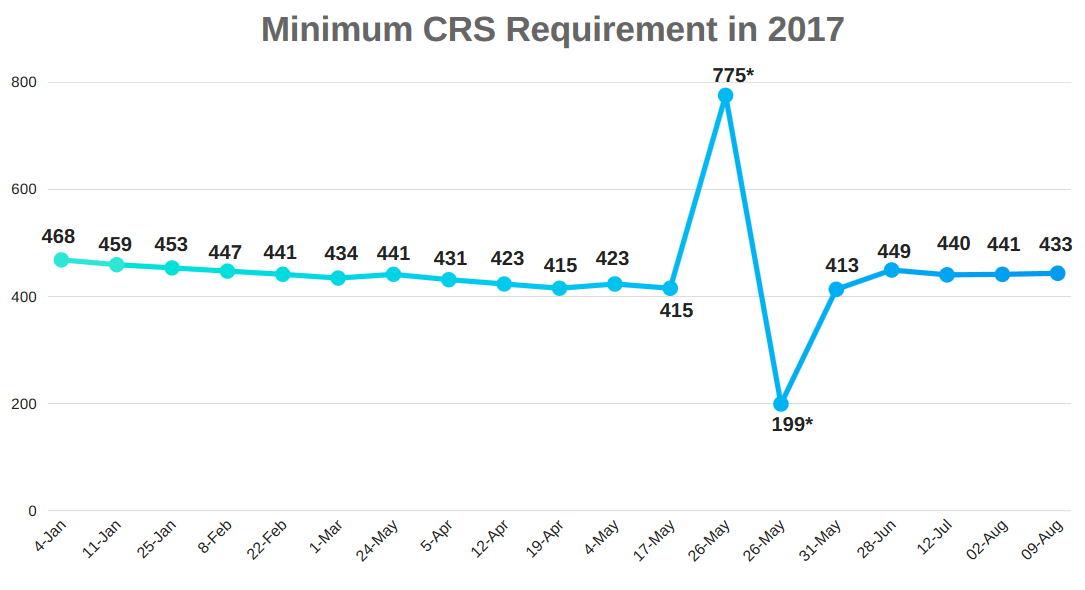 Different Cases Cause for Very Different CRS Scores
Below are a few hypothetical scenarios that display a different range of candidates that would be eligible to apply for permanent residence because of their CRS score:
Marco: 34-year-old artist. He has a bachelor's degree in Business and Art. He is proficient in English with some knowledge of French. He has visited Canada many times and had a brother who lives in Toronto. His score is 466.
Jeffery: 25-year-old, post graduate US student who just finished their Master's Degree in History. Offered a job in Canada as a High School history teacher. He is proficient in English but doesn't know any French. He is single and has no family in Canada. His score is 481.
Maurice and Maria: Husband and wife, both 28 years old. Both IT engineers with Canadian job offers, worked in Canada for two years. Both proficient in English but don't know any French. Their score is 527.
Emma: 22 years old. An international student from India just finished her Bachelors Degree in a Canadian university. Has been working in Canada the last year and had a job offer. She speaks English very well and some French.  She has family in Canada. Her score is 572.
Express Entry draw list: 2017 (to date)
• Lowest CRS points in any Express Entry draw: 413 (all programs), 199 (FSTC)
• Highest CRS points in any Express Entry draw: 886
• Lowest CRS points in a 2017 Express Entry draw: 413 (all programs), 199 (FSTC)
• Highest CRS points in a 2016 Express Entry draw: 768
Do you want to immigrate to Canada?
Fill out our FREE online immigration assessment, and we will get back to you within 24 hours.
WE WANT YOUR FEEDBACK! 
Do you want to know if you qualify for Express Entry?
Comment below, we want to hear your opinion hear your opinion!