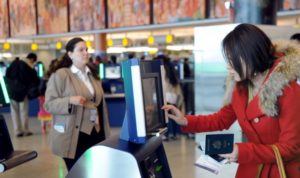 On March 4, 2019, Vancouver Internationa Airport's (YVR) Innovated Travel Solutions (ITS) announced that their self-service border control solution, BorderXpress is the first in Canada to be updated to meet the Canadian government's expanded biometric screening requirements. Back on July 31, 2018, Canada expanded its biometric requirements with their ultimate goal of making legitimate travel to Canada easier while protecting national security, preventing identity fraud and increasing information.
New Self-Service Kiosks: Shorter Wait Time and More Accessible
The new BorderXpress Primary Inspection Kiosks use a two-step process to expedite the border clearance process, reducing passenger wait times by more than 60 percent. The kiosk is fully accessible to persons with disabilities, can be configured with up to 35 different languages and process any passenger, including families traveling as a group. The BorderXpress technology was developed by ITS, an independent business unit within Vancouver International Airport. Since 2009, ITS has sold more than 1,600 kiosks to 42 airport and seaport locations around the world.
The major key points that make this change is that there will be a shorter wait time for those traveling through or into Canada and it will also be easier for those with disabilities or language barriers to complete biometrics.
"The Government of Canada has stated that the collection of biometrics is a critical aspect of their immigration program and one that allows for accuracy in establishing a traveler's identity," says Steve Hankinson, VP of innovation and planning at Vancouver Airport Authority. "Our BorderXpress Primary Inspection Kiosks are the first to be adapted to accommodate the needs of the Canadian government while also providing a border control solution that unites security, efficiency, and innovation to transform the passenger experience, which is ultimately what drives our team forward."
"Facilitating a quicker and more simplified experience at our borders is a key priority for the CBSA," added Rosalyn H. MacVicar, regional director general for CBSA Pacific Region. "By leveraging innovative technology and working with our partners, like Vancouver Airport Authority, we are achieving this goal while preventing fraudulent entry into Canada."
Source: https://www.biometricupdate.com/201903/borderxpress-border-control-kiosks-updated-to-meet-canadian-government-biometric-requirements
Do You Have Questions About Traveling to Canada?
If so, Contact VisaPlace today. All our cases are handled by competent and experienced immigration professionals who are affiliated with VisaPlace. These professionals consist of lawyers, licensed paralegals, and consultants who work for Niren and Associate award-winning immigration firm that adheres to the highest standards of client service.
Ready for the next step? Book your 1 on 1 consultation now or call us at 1-888-317-5770.
Have a Question related to your Immigration Needs?
Click here to fill out the FREE Immigration Assessment form below and get a response within 24 hours to see if you're eligible.
The assessment form should take approximately 5-7 minutes to complete. We will get back to you within one business day to let you know if we are able to help.