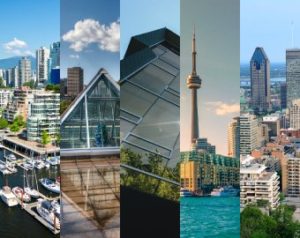 The Economist Intelligence Unit came out with the most livable cities for 2019. Canada had 3 cities in the top 10 list! Canada was the only country in North America with a top livable city, beating out any city in the United States. The majority of "best place to live" ratings are based on factors such as political stability, healthcare, income, culture, environment, education, infrastructure, housing, climate, and recreational activities.
"Overall, our index remains dominated by medium-sized cities in wealthy countries," the report notes, pointing to high-quality education, well-funded public healthcare, and functional transport systems. These cities—with populations that number anywhere from 300,000 to 1 million—hit the sweet spot between overcrowded and underdeveloped.
"The upsides of these cities tend to be fully realized. You get a good collection of cultural activities, you get good access to healthcare and education," said EIU's regional director for Asia, Duncan Innes-Ker. "But you don't get a lot of downsides that tend to come with big cities, things like traffic congestion, crime problems, and general wear and tear."
The world's most livable cities 2019
1. Vienna, Austria
2. Melbourne, Australia
3. Sydney, Australia
4. Osaka, Japan
5. Calgary, Canada
6. Vancouver, Canada
7. Toronto, Canada
7. Tokyo, Japan
9. Copenhagen, Denmark
10. Adelaide, Australia
Calgary, Canada Most Livable City #5
Calgary has been named the world's fifth most livable city by the Economist for seven years in a row, earning top marks for stability, healthcare, and education. There are several reasons why Calgary has been named the most livable city in Canada but it typically doesn't get the attention that larger cities such as Toronto or Vancouver get.
In 2004 and 2014 Calgary has been named the world's cleanest city! The city boasts clean sewage systems, good water drinkability, and availability, and there's not much air pollution. What keeps Calgary so clean? One of the ways is through heavy litter fines. Even dropping a cigarette butt onto the sidewalk can net you a $500 to $1,000 fine.
There are also very low taxes compared to other provinces in Canada. One of the nice things about living in Alberta is that there's no provincial sales tax. If you move to Calgary, you'll only have to pay the five percent federal Goods and Services Tax. In comparison, if you live in Ontario, Quebec, or the Atlantic provinces, you're paying about a combined 15 percent provincial and federal sales tax.
Learn more about Life in Calgary, Alberta for Immigrants
Vancouver, Canada Most Livable City #6
Vancouver has also been named on the Most Livable Cities in the World many times. Some like to debate that Vancouver out beats Calgary and I believe it is pretty close but there are many reasons why Vancouver is on the list. Vancouver is renowned for its cultural diversity. Attracting people from around the world to live here and grounded in the deep cultural roots of the Coast Salish people Vancouver's multiculturalism is reflected in its population! It makes the city unique, dynamic and a welcoming place for everyone.
One of the reasons Vancouver is known to be one of the best places to live in the world is the surroundings. Vancouver's downtown core, surrounded by ocean and mountains, makes for spectacular views from essentially any vantage point in the city. The infrastructure of this city's downtown core means residents can both live and work in its urban center. Unlike some major cities around the world where downtown is meant for working and suburbs are meant for living, Vancouver accommodates the two.
There are hundreds of other reasons why Vancouver is such a great city to live in. Learn more about Life in Vancouver, British Columbia for Immigrants
Toronto, Ontario Most Livable City #7
When people think of Canada many people have the city of Toronto in their mind. It is the largest city in Canada which brings many benefits for diversity, job opportunities, and educational advantages. It has been said that Toronto has over 200 languages spoken throughout the city. The population of Toronto currently consists of 2.8 million people and 50% of these residents were born in foreign countries. At almost every corner of the city, one can find an ethnically diverse restaurant, bar or even a nightclub.
Toronto has some of the best universities in the world. Many international students come to Canada to receive some of the best education. The University of Toronto (UofT), Ontario College of Art and Design (OCAD), Ryerson University and York University are all world-renowned schools that are located almost 20 minutes away from each other.
Despite Toronto's large population, being the 4th most populated city in North America, its current crime rates are at an all-time low. Toronto was ranked the 3rd lowest city in Canada for both homicide and violent crime rates. Although there is still crime in Toronto, it is significantly lower than crime in cities throughout the United States.
Learn more about Life in Toronto, Ontario for Immigrants.
Are You Interested in Immigrating to Canada?
If so, Contact VisaPlace today. All our cases are handled by competent and experienced immigration professionals who are affiliated with VisaPlace. These professionals consist of lawyers, licensed paralegals, and consultants who work for Niren and Associates an award-winning immigration firm that adheres to the highest standards of client service.
Ready for the next step? Book your 1 on 1 consultation now or call us at 1-888-317-5770.
Have a Question related to your Immigration Needs?
Click here to fill out the FREE Immigration Assessment form below and get a response within 24 hours to see if you're eligible.
The assessment form should take approximately 5-7 minutes to complete. We will get back to you within one business day to let you know if we are able to help.