Interested in immigrating to the United States?
Fill out our immigration assessment form today.
Oklahoma City is the capital and the largest city in the U.S. state of Oklahoma. The county seat of Oklahoma County, the city ranks 30th among United States cities in population. The city's population, from the 2010 census, was 580,000, with a metro-area population of 1,252,987. Consisting of over 1.2 million people, it is Oklahoma's largest metropolitan area.
Oklahoma is very accepting of international immigrants. Immigrants, Latinos, and Asians account for growing shares of the economy and population in Oklahoma. Immigrants (the foreign-born) make up 1 in 20 Oklahomans, and one-third of them are naturalized U.S. citizens who are eligible to vote.
Oklahoma Is a Great Place for Immigrants
"New Americans"—immigrants and the children of immigrants—account for 3.3% of registered voters in the state. Immigrants are not only integral to the state's economy as workers, but also account for billions of dollars in tax revenue and consumer purchasing power. Moreover, Latinos and Asians (both foreign-born and native-born) wield $10.1 billion in consumer purchasing power, and the businesses they own had sales and receipts of $3.5 billion and employed more than 24,000 people at last count.
Oklahoma City has a humid subtropical climate, with frequent variations in weather daily and seasonally, except during the consistently hot and humid summer months. Prolonged and severe droughts (sometimes leading to wildfires in the vicinity) as well as very heavy rainfall leading to flash flooding and flooding occur with some regularity. Consistent winds, usually from the south or south-southeast during the summer, help temper the hotter weather. Consistent northerly winds during the winter can intensify cold periods. Severe ice storms happen sporadically.
Why Immigrate to Oklahoma?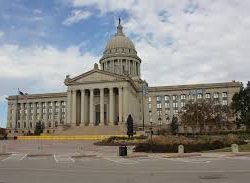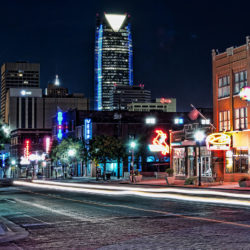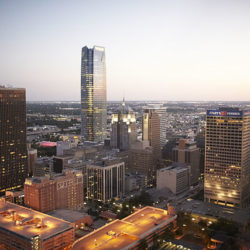 H-1B Program Could the Ticket for Those With Professional Occupations
The economy of Oklahoma City, once just a regional power center of government and energy exploration, has since diversified to include the sectors of information technology, services, health services and administration. The city has two Fortune 500 companies: Chesapeake Energy Corporation and Devon Energy Corporation, several others that are in the Fortune 1000 and a numerous large privately owned companies. The city is home to the corporate headquarters of Sonic Drive-In, whose office building and corporate restaurant is located in the Bricktown district of downtown Oklahoma City. According to the Oklahoma City Chamber of Commerce, the metropolitan area's economic output grew by 33 percent between 2001 and 2005 due chiefly to economic diversification. Its gross metropolitan product was $43.1 billion in 2005 and grew to $61.1 billion in 2009.
This makes work visas a prime ticket for immigrants to Oklahoma. An H-1B Visa is a U.S. work permit that allows foreigners to work "specialty occupations" for U.S. employers. A previous skilled workers program had hit its quota in the US just days into the application period as reported by the United States Citizenship and Immigration Services, prompting a lottery and signalling that companies feel confident enough to hire more foreign workers. The H-1B program has not reached its cap and offers the best opportunity for those looking to start a life in Oklahoma City and who have professional occupations available in the city.
Want An Assessment to Know If You Qualify to Migrate to Oklahoma City?
Our immigration attorneys have the knowledge to let you know if you will qualify to immigrate to Raleigh.  Getting an assessment is easy, just contact us here and book an appointment that is convenient for you.  We will ask you series of questions and will spend about 15-30 minutes in a virtual meeting to determine if this would be a good fit for you and your family.
How Our Immigration Lawyers Can Help
If you plan on migrating to Oklahoma in the USA, then you'll want an immigration lawyer who knows the ins and outs of American immigration.   Our firm has offices throughout North America, but our corporate office is in Toronto.  Even though our main office is not located in Oklahoma City, if you watch the video above you will quickly see we are able to help anyone in the world immigrate to Oklahoma City.
Our immigration lawyers have over 30 years combined experience and have successfully processed thousands of US visa applications.   We are fully confident we can help you with your immigration matter too!  You can get in touch with us here.
Once You Arrive in Oklahoma City
When you get settled in your new home you will probably be interested in the following:
When you work with our immigration law firm we make sure we provide you with all the resources you'll need to settle properly in your new country.   If you are interested in immigrating to Oklahoma City, be sure to contact our law firm to get an assessment of your case with one of our immigration experts.
Interested in Immigrating to Oklahoma City?
Getting started is easy. Use our eligibility assessment form or call us today to speak to one of our U.S. immigration experts.