Interested in immigrating to the United States?
Fill out our immigration assessment form today.
Are You Thinking Of Immigrating to Atlanta, GA?
Atlanta is the capital of and the most populous city in the U.S. state of Georgia, with an estimated 2011 population of 432,427. Atlanta is the cultural and economic center of the Atlanta metropolitan area, home to 5,457,831 people and the ninth largest metropolitan area in the United States. The city was established in 1837 at the intersection of two railroad lines, and the city rose from the ashes of the Civil War to become a national center of commerce
Atlanta, while very much in the South, has a culture that is no longer strictly Southern. This is because in addition to a large population of migrants from other parts of the U.S., many recent immigrants to the U.S. have chosen to make the city their home, making Atlanta one of the most multi-cultural in the nation.
Additionally, Georgia is now the eleventh largest state in the nation, according to the Census Bureau. Next to Florida, Georgia is the fastest growing state in the South.
There Are Fantastic Opportunities For International Immigrants to Immigrate to Atlanta
Atlanta's immigrant population has been increasing over the past decade, and this isn't surprising. Recently, Atlanta's cost of living has been 6.00% lower than the U.S. average. Furthermore, when it comes to major metropolitan areas, Atlanta ranks No. 2 in job growth, according to a recent study by Arizona State University. As a result, immigrants Atlanta as an ideal destination for international immigrants looking to migrate to the US using a Work Visa.
USA Visa Procedures Have Been Made Easier for Canadians
Under the North American Free Trade Agreement (NAFTA), the doors have been opened for Canadians and businesses seeking to enter the US markets. As a result, US Work Visa applications for Canadian businesses and professionals are now being accepted through a streamlined process.
Want An Assessment to Know If You Qualify to Immigrate to Atlanta?
Our immigration lawyers have the knowledge to let you know if you will qualify to immigrate to Atlanta. Getting an assessment is easy, just contact us here and book an appointment that is convenient for you. We will ask you series of questions and will spend about 15-30 minutes in a virtual meeting to determine if this would be a good fit for you and your family.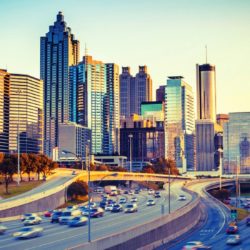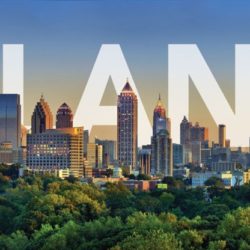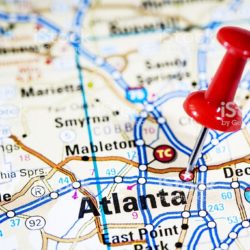 How Our Immigration Lawyers Can Help
If you plan on migrating to Atlanta, Georgia, then you'll want an immigration lawyer who knows the in's and out's of US immigration. Our firm has offices through-out North America, but our corporate office is in Toronto. Even though our main office is not located in the Georgia, if you watch the video above you will quickly see we are able to help anyone in the world immigrate to Atlanta.
Our immigration lawyers have over 30 years combined experience and have successfully processed thousands of US visa applications. We are fully confident we can help you with your immigration matter too! You can get in touch with us here.
Other Interesting Facts & Information About Atlanta:
Atlanta's high elevation distinguishes it from most other southern and eastern cities, and contributes to a more temperate climate than is found in cities at similar latitudes. Under the Köppen classification, it has a humid subtropical climate, with hot humid summers and mild, yet temperamental winters.
The city is one of few United States cities with permanent, professional, resident companies in all major performing arts disciplines: opera (Atlanta Opera), ballet (Atlanta Ballet), music (Atlanta Symphony Orchestra), and theater (the Alliance Theatre). Atlanta also attracts many touring Broadway acts, concerts, shows, and exhibitions catering to a variety of interests.
As of 2010, Atlanta is the seventh-most visited city in the United States, with over 35 million visitors per year. Although the most popular attraction among visitors to Atlanta is the Georgia Aquarium, the world's largest indoor aquarium, Atlanta's tourism industry mostly driven by the city's history museums and outdoor attractions.
Once You Arrive to Atlanta
Once you arrive to Atlanta and get settled in your new home, you may be interested in doing the following:
When you work with our immigration law firm we make sure we give and provide you with all the resources you'll need to settle properly in your new country. If you are interested in immigrating to Atlanta, be sure to contact our law firm to get an assessment of your case with one of our immigration professional.
Getting started is easy. Use our eligibility assessment form or call us today at 1.877.296.0874 to speak to one of our U.S. immigration professional.