Regina is the capital city of the Canadian province of Saskatchewan. The city is the second-largest in the province and a cultural and commercial centre for southern Saskatchewan. It is governed by Regina City Council. Regina is the cathedral city of the Roman Catholic and Romanian Orthodox Dioceses of Regina and the Anglican Diocese of Qu'Appelle. Citizens of Regina are referred to as Reginans.
Regina experiences a dry humid continental climate with warm summers and cold, dry winters, prone to extremes at all times of the year. Average annual precipitation is 388 mm (15.28 in) and is heaviest from June through August, with June being the wettest month with an average of 75 mm (2.95 in) of precipitation.
Regina has a substantial cultural life in music, theatre and dance, supported by the fine arts constituency at the University of Regina, which has faculties of music, theatre and plastic arts. At various times this has attracted notable artistic talent: the Regina Five were artists at Regina College (the University's predecessor) who gained national fame in the 1950s.
A notable attraction, he Queen Elizabeth II equestrian statue (pictured above) stands at the head of the Queen Elizabeth II Gardens in the city of Regina.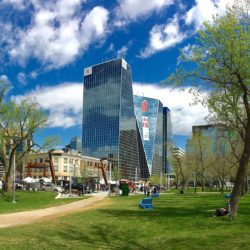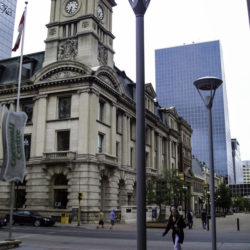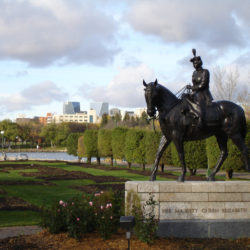 There is an Ideal Opportunity to Migrate to Regina
Those interested in immigrating to Regina, Saskatchewan are in an ideal position. With the plan that was recently passed, the city expects to grow from about 200,000 residents to around 500,000 in only a few decades. Much of that growth will be from immigration as people from all over the world look to Regina's booming economy: The city has the strongest economy, lowest unemployment and arguably the best outlook, compared to other Canadian cities. The city's strong economy will lead to immigrants arriving via skilled worker visas.
The Saskathewan Provincial Nominee Program Could Be Your Ticket
Saskatchewan has recently streamlined the SPNP — making a simpler, supported  path to their province for skilled immigrants. Improvements by the Saskatchewaan Provincial Nominee Program for Skilled Workers will help you and your family to quickly determine if you share the qualities that lead thousands of people from all over the world to successfully settle and make a new home in Regina.
Want An Assessment to Know If You Qualify to Migrate to Regina?
Our immigration attorneys have the knowledge to let you know if you will qualify to immigrate to Raleigh.  Getting an assessment is easy, just contact us here and book an appointment that is convenient for you.  We will ask you series of questions and will spend about 15-30 minutes in a virtual meeting to determine if this would be a good fit for you and your family.
How Our Immigration Lawyers Can Help
If you plan on migrating to Regina, SK Canada, then you'll want an immigration lawyer who knows the ins and outs of Canadian immigration. Our firm has offices throughout North America, but our corporate office is in Toronto. Even though our main office is not located in Regina, if you watch the video above you will quickly see we are able to help anyone in the world immigrate to Saskatchewan.
Our immigration lawyers have over 30 years combined experience and have successfully processed thousands of Canadian visa applications. We are fully confident we can help you with your immigration matter too! You can get in touch with us here.
Once You Arrive in Regina
When you work with our immigration law firm we make sure we provide you with all the resources you'll need to settle properly in your new country. If you are interested in immigrating to Regina , be sure to contact our law firm to get an assessment of your case with one of our immigration experts.
Getting started is easy. Use our eligibility assessment form or call us today at
+1.647.699.5307
to speak to one of our U.S. immigration experts.