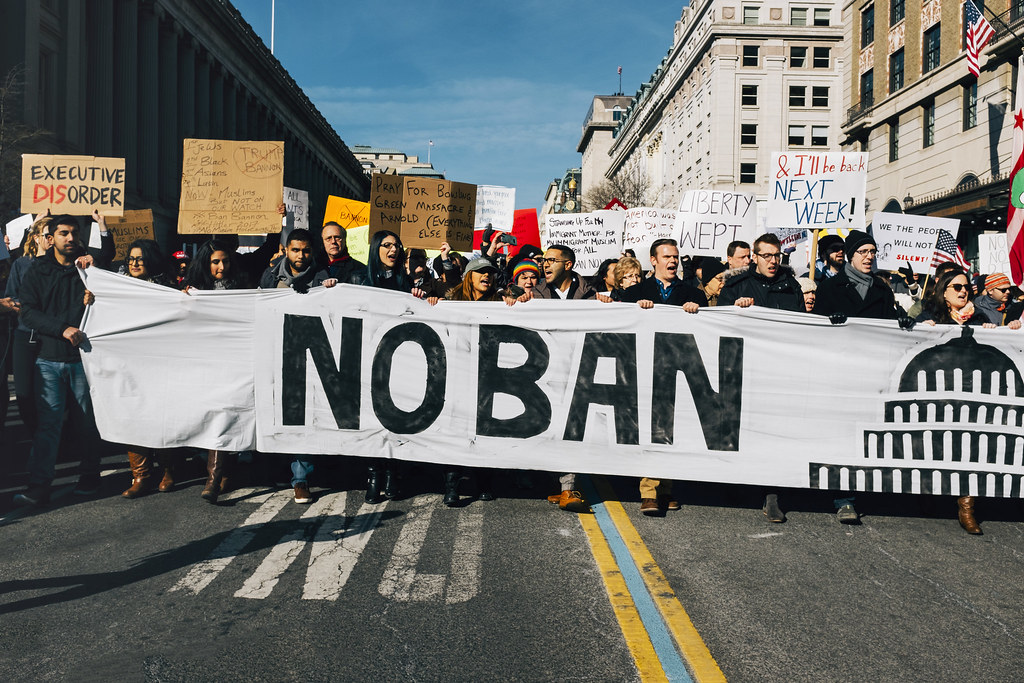 On Saturday afternoon there were five Iraqi and one Yemeni passenger barred from boarding an EgyptAir flight from Cairo to New York. Earlier that day Donald Trump halted the entry of citizens from seven Muslim countries. The passengers were stopped and directed to flights heading back to their home countries despite holding valid US visas.
On Friday afternoon, Trump put a 90-day hold on allowing refugees into the United States and temporarily suspended travelers entering the United States from Syria and six other Muslim-majority countries. He created the hold in order to help protect Americans from terrorist attacks.
Donald Trump's action to suspend entering the U.S. from these countries is supposed to give his administration time to develop a more stringent screening procedure for refugees, immigrants, and visitors. "I'm establishing new vetting measures to keep radical Islamic terrorists out of the United States of America. Don't want them here," Trump said earlier on Friday at the Pentagon. "We only want to admit those into our country who will support our country and love deeply our people," he said.
List of Banned Countries
The ban is suspending the traveling from countries Iran, Iraq, Libya, Somalia, Sudan, Syria, and Yemen. Although Cairo was the first airport to show that they were implementing the ban, the other countries listed have yet to comment on the matter.
One of the most controversial parts of the executive action was the means to help people who are fleeing from religious persecution. Trump's order he said was aimed at helping Christians in Syria. This has led to many legal experts question whether the order was constitutional or not.
The Council on American-Islamic Relations has announced a court challenge on Monday. They are saying that the order is targeting Muslims because of their faith, contravening the U.S. Constitutional right to freedom of religion. "President Trump has cloaked what is a discriminatory ban against nationals of Muslim countries under the banner of national security," said Greg Chen of the American Immigration Lawyers Association.
Even people with "green cards" who are legal permanent residents, were advised to consult with an immigration lawyer before traveling outside of the country or trying to return to the United States. Abed Ayoub, part of the American-Arab Anti-Discrimination Committee, said he had fielded about 100 queries from people who were anxious about the order. Some of these people included green card holders, students, people coming to America for medical care, and others. Ayoub described it as "chaos,".
Donald Trump has not been shy about his opinion of refugees. He put in the order so that he can bring safe refugees over to the United States. He has also commented on them during his campaign saying that they could be a "Trojan horse" to allow so many Syrians into the United States wait until they all attack. In December 2015, he called for a Muslim ban including a religious test for immigrants but critics said it would violate the U.S. Constitution.
Trump's current order is suspending the Syrian refugee program until further notice and it will eventually give priority to religious groups fleeing persecution. He interviewed with the Christian Broadcasting Network and said that the ban would help Syrian Christians flee the civil war in Syria.
"If they are thinking about an exception for Christians, in almost any other legal context discriminating in favor of one religion and against another religion could violate the constitution," said Stephen Legomsky, a former chief counsel at U.S. Citizenship and Immigration Services in the Obama administration.
Unconstitutional?
Although many legal experts are criticizing the ban, Peter Spiro, a professor at Temple University Beasley School of Law explained how it can be constitutional. He said it would likely be constitutional because the President and Congress are allowed considerable deference when it comes to asylum decisions. Spiro said, "It's a completely plausible prioritization, to the extent this group is actually being persecuted."
The ban may also affect special refugee programs for Iraqis who worked for the United States government as translators after the 2003 invasion of Iraq. It has already been affecting many refugees and their families. Jen Smyers of the Church World Service which is a Protestant faith-based group that works with immigrants spoke with an Iraqi mother whose twin daughters remain in Iraq due to the ban. "Those two 18-year-old daughters won't be able to join their mother in the U.S.," Smyers said.
Many Republican politicians praised Donald Trump's move on the ban. Representative Bob Goodlatte, said, "I am pleased that President Trump is using the tools granted to him by Congress and the power granted by the Constitution to help keep America safe and ensure we know who is entering the United States,".
The Iranian President, Hassan Rouhani, spoke on the proposed wall between US and Mexico. "Today is not the time to erect walls between nations. They have forgotten that the Berlin wall fell years ago," Rouhani said in a speech carried live on Iranian state television. He did not make any reference to Trump's order on banning refugees and travelers from his country. Rouhani did say earlier this month that Trump could not unilaterally cancel the nuclear deal and that talk of renegotiating was "meaningless".
France and Germany voiced disquiet on Saturday over Trump's new restrictions on immigration.
"Welcoming refugees who flee war and oppression is part of our duty," French Foreign Minister Jean-Marc Ayrault said at a joint news conference with German counterpart Sigmar Gabriel. "The United States is a country where Christian traditions have an important meaning. Loving your neighbor is a major Christian value, and that includes helping people," said Gabriel. "I think that is what unites us in the West, and I think that is what we want to make clear to the Americans."
Democrats were quick to condemn Trump's order saying it was un-American, unconstitutional, and not Christian-like. They all agree on saying it would tarnish the reputation that America has as the home of the free and land that welcomes immigrants.
Are you interested in immigrating to the U.S. or Canada?
We have helped thousands and We Can Help You! 
Contact VisaPlace Today. All our cases are handled by competent and experienced immigration professionals who are affiliated with VisaPlace. These professionals consist of lawyers, licensed paralegals, and consultants who work for Niren and Associates an award-winning immigration firm that adheres to the highest standards of client service.
Ready for the next step? Book your 1 on 1 consultation now or call us at 1-888-317-5770.
Have a Question related to your Immigration Needs?
Click here to fill out the FREE Immigration Assessment form below and get a response within 24 hours to see if you're eligible.
The assessment form should take approximately 5-7 minutes to complete. We will get back to you within one business day to let you know if we are able to help.
Source: http://www.reuters.com/article/us-usa-trump-refugees-idUSKBN15B2HL