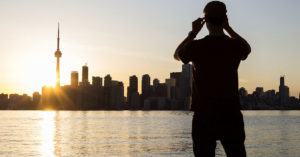 Toronto is a great place to live. Many native Torontonians sadly take our fair city for granted.  Sometimes, it takes recent immigrants to remind us about how good we have it. Many immigrants have come from places which are lacking in basic infrastructure, culture and general standard of living. They cherish their new found home and remind the people of Toronto of why it is a major immigration destination worldwide.
Toronto, while like many large cities has its share of high taxes, pollution, congestion etc. However, unlike many of its counter-parts, Toronto has some unique benefits not found in other North American cities. So let's highlight our "Toronto Top Ten":
1. Residential Neighborhoods in the heart of the city. What city boasts residential real estate next to city living? Unlike places like New York you can have it both ways in Toronto. Big cities, good schools and parks rolled into one. Whether you're looking for family-friendly, trendy and dynamic, historical or busy city, Toronto has it all.
2. Low Crime Rate: Toronto is known for its low crime. When a violent crime occurs it makes the news–usually the front page.
3. Harmonious multicultural population. So many people from different backgrounds all living and working together. The proportion of Toronto's population that's foreign born remains higher than just about any major city in the world.
Over 250 ethnicities and 170 languages are represented in the Toronto Region, but the numbers only tell part of the story. Living in Toronto, you'll soon realize that it's multiculturalism is woven into every aspect of their way of life, whether it be through food, festivals, art or business.
4. Economic hub. Toronto is Canada's business and financial capital. It's where the merger and acquisitions, head offices, and big law firms reside. The Toronto Region is a global economic powerhouse that consistently outperforms other cities, with the most diverse economy in North America supporting a variety of key business sectors.
The region is home to:
more than six million people
38 percent of Canada's business headquarters
one-fifth of Canada's Gross Domestic Product (GDP)
nearly half of Ontario's GDP
5.  Great cuisine and entertainment. Next to New York, Los Angeles, and London, Toronto is the largest centre for the Arts in the world. The Toronto Film Festival attracts the "IT crowd" from Hollywood every year.  World-renowned festivals, events and spaces celebrate the arts, theatre and the city's heritage, all set against a backdrop of marvelous architecture and inspired by Toronto's diversity.
Toronto has a dynamic and diverse culinary scene, with internationally-acclaimed chefs and restaurants. The bar and nightlife scene is pretty incredible too.  From Vegas-style lounges to after-hours nightclubs to relaxed sports bars, there are options to suit everyone.
6. Variety of Real Estate. Whether you are renting or buying, you can choose from many different types of housing in Toronto. You can choose to own or rent anywhere from an apartment, to different sized family homes, to a townhouse. In some cases, landlords or other tenants even allow you to rent out a single room if you are trying to save some money. Whatever your taste in living style is, there will be something for you in Toronto.
7. Government stability. Compared to other places especially outside the US and Canada, Toronto is virtually corrupt-free. Canada as a whole has been a functional democracy for nearly 150 years, and Canadians are proud of their history as a free people with a government that generally respects their wishes and protects their rights.
8.  A true cosmopolitan city. Toronto's multiculturalism combined with its economic clout translates into a world class affair on the scale of New York, Paris and London.
9. Stable Climate. Toronto has a semi-continental climate, with a warm, humid summer and a cold winter. The Spring and Fall weather usually  falls somewhere in between. Hurricanes, tsunamis  and earthquakes are things virtually foreign to Torontonians.
10.  People. After all a city is it's people. Torontonians are busy; they are rushed and sometimes reserved. But they are nice to the core, tolerant and accepting. Smile and they will smile back 🙂
Are You Interested in Immigrating to Toronto?
If you are interested in immigrating to Canada, contact VisaPlace today. All of our cases are handled by competent and experienced immigration professionals who are affiliated with VisaPlace. These professionals consist of lawyers, licensed paralegals, and consultants who work for Niren and Associates an award-winning immigration firm that adheres to the highest standards of client service.
Ready for the next step? Book your 1 on 1 consultation now or call us at 1-888-317-5770.
Have a Question related to your Immigration Needs?
Click here to fill out the FREE Immigration Assessment form below and get a response within 24 hours to see if you're eligible.
The assessment form should take approximately 5-7 minutes to complete. We will get back to you within one business day to let you know if we are able to help.