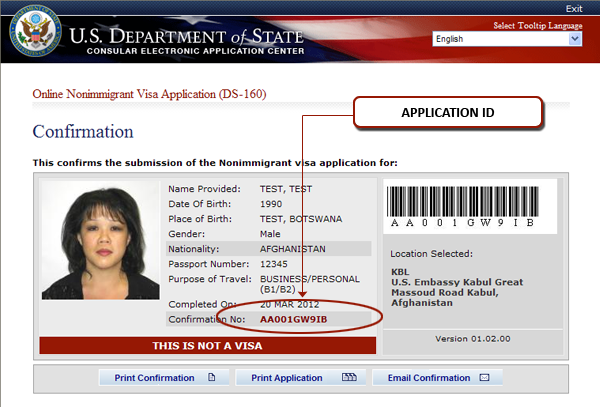 The Consular Electronic Applications Center (CEAC) allows foreign individuals and their legal representatives to check the status of U.S. visa applications online. People use this system to make payments for their applications, submit and check files and documents.
After September 3, 2013, the United States required individuals to file their immigration petition to the U.S. DOS using the DS-260 forms online.
Once entering the details in the CEAC, applicants will see the status of their petition. This status may appear as follows:
This status is shown on online applications until the interview is completed.
The status indicates that information (such as photographs and fingerprints) need to be taken or that an interview needs to be scheduled.
The U.S. authority has not yet opened the case or the DS260 form has not been submitted yet.
The case arrived to a U.S. Embassy to schedule an interview. You can find out more about scheduling an interview by visiting the USCIS website.
The visa application is completed and approved in the final processing phase.
You can find out more about the refusal by contacting the U.S. authority that handled the interview.
Administrative processing
Further checks are needed. This process can take up to 60 days after the visa interview. If any documents are missing, the U.S. consulate contacts the applicant. Once this stage is complete, and your application has been accepted, your visa will be sent to you via mail in two business days.
This notification signals that your registration for an immigrant visa was cancelled. Any petition approved on your behalf was also cancelled. Your application may be reinstated if, within one year, you demonstrate that your failure to pursue an immigrant visa application resulted from circumstances beyond your control. Note that your registration record and any petition approved on your behalf, as well as supporting documents, have been destroyed and any U.S. Department of Labor certifications have been returned to your prospective employer. If you still want to pursue an immigrant visa, your petitioner should contact the U.S. Department of Homeland Security's (DHS) Office of U.S. Citizenship and Immigration Services (USCIS) to file a new immigrant visa petition.
Section 203(g) of the U.S. Immigration and Nationality Act requires the cancellation of registration and any approved petition if you don't apply for an immigrant visa within one year of being notified to do so. If you do not obtain an immigrant visa during that time, and you fail to notify the USCIS that you haven't obtained one, your application and any petition approved on your behalf will be canceled.
Your application can get reinstated and a petition can get revalidated if, within that one-year period, you can prove that your inability to get an immigrant visa application was due to events beyond your control. You'll need to give a written statement to the U.S. Embassy or U.S. Consulate that details those circumstances and notes that you still want to pursue a visa petition.
CEAC FAQ
How do I log into CEAC?
Immigrant visa applicants use their case ID number and invoice ID number to log into CEAC. The National Visa Center (NVC) will send you both of those numbers when they receive your approved petition from USCIS. Keep this information in a safe place.
Where do I find my NVC case number and invoice ID number?
The National Visa Center (NVC) will send you both of those numbers. After NVC receives your approved petition from USCIS, NVC creates a case file for you at the Department of State and assigns you an NVC case number. NVC will send you a letter or e-mail with your case number and a separate invoice ID number. Keep in mind that you cannot begin to pay fees or submit documents until you receive this letter from NVC instructing you to begin processing.
Who can log into my CEAC account?
Upon receipt of your approved petition from USCIS, NVC will send your log-in information to you (the visa applicant), your petitioner in the United States, and your attorney (if you have designated one). If you want to share your information with anyone else, that is up to you. Keep in mind that if you add anyone's email address to your case so they can receive updates and instructions – such as another family member or friend – that person will receive your log-in information. Make sure you only share this information with people you know and trust. Do not share information about your case on social media, and never give your case number to strangers.
Is my personal information on CEAC safe?
Your application information on CEAC is secure. You need two unique pieces of information to log into CEAC. To provide additional protection, users will be unable to view documents that contain Social Security numbers and sensitive financial information once they are submitted to CEAC. You will only be able to view them if NVC finds an error and asks you to delete the document and upload a new one.
Can I add an attorney or legal representative to my case?
Yes, if you hire an attorney he or she should submit to NVC a signed Form G-28 or letter on the legal firm's letterhead. Your attorney should email this as an attachment to NVCattorney@state.gov.
Are You Interested in Immigrating to the US?
If so, Contact VisaPlace today. All our cases are handled by competent and experienced immigration professionals who are affiliated with VisaPlace. These professionals consist of lawyers, licensed paralegals and consultants who work for Niren and Associates an award winning immigration firm that adheres to the highest standards of client service.
Ready for the next step? Book your 1 on 1 consultation now or call us at 1-888-317-5770.
Have a Question related to your Immigration Needs?
Click here to fill out the FREE Immigration Assessment form below and get a response within 24 hours to see if you're eligible.
The assessment form should take approximately 5-7 minutes to complete. We will get back to you within one business day to let you know if we are able to help.