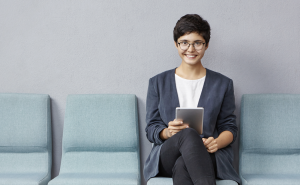 Every year students are moving abroad for higher education in the United States through the F-1 visa or M-1 visa. As the US offers many top-class learning institutions and cities for every liking, many individuals are getting more and more serious about the move. When applying for a US student visa, the applicant is asked to provide proof that they can financially support themselves while studying in the United States. In most cases, whether it's to cover tuition finances or simply cover your day-to-day expenses, students are interested in their job options. If you're interested in working in the United States as an international student, you may qualify for one of these four options!
On-Campus Jobs
Most international students in the United States looking to work while studying stick to on-campus employment for a few reasons. For starters, this is a great choice for those who don't have a good source of transportation and would like to stay local. More importantly, it is the only type of job available to students in your first academic year allowing you and refers to work that takes place on campus or at an "educationally affiliated off-campus location." Being "educationally affiliated" means the off-campus location must meet at least one of these two criteria:
Associated with the school's established curriculum
Related to contractually-funded research projects at the post-graduate level
On-campus employment doesn't exactly mean you will be working on campus as many colleges and universities have buildings and educational partnerships all over town. For example, you may work on campus in your school's bookstore, library, cafeteria, etc. OR off-campus in a research lab affiliated with your school. Work hours are limited to 20 hours per week while school is in session, but you can work full-time during holidays and vacation periods. If you choose to work more than one on-campus job, your total combined hours per week cannot exceed 20 hours.
Off-Campus Jobs
Off-campus employment is only available to international students who have completed one full academic year and who have a qualifying economic hardship or an emergent circumstance. A qualifying economic hardship entails "new, unexpected circumstances beyond control," such as:
Loss of financial aid or on-campus employment (if the student is not at fault)
Large increases in tuition or living costs
A substantial decrease in the relative value of currency the student depends upon to pay expenses
Unexpected changes in the financial conditions for a student's sources of financial support
Unexpectedly large medical bills not covered by insurance
Other substantial, unexpected expenses
Emergent circumstances are defined as "world events that affect a specific group of F-1 students and which causes them to suffer severe economic hardship, including, but not limited to natural disasters, wars and military conflicts, national or international financial crises."
To apply for an off-campus job, contact your Designated School Official (DSO) to approve the reason and recommend off-campus employment as the first part of the application process. It's important to know that you cannot begin working while your application is still being processed so apply early to start when you receive an offer of employment. If approved, you may work 20 hours per week.
CPT (Curricular Practical Training)
Curricular Practical Training (CPT) was designed for students to engage in real-world experiences within the field they are studying in like an internship or practicum with a partnering employer. Unlike other employment categories, CPT can be full-time, with no weekly hour limit. You can also have more than one CPT authorization at the same time. To qualify for CPT, you must have completed one full academic year, unless you're a graduate student whose program requires immediate CPT. Once you've finished a year or more of full-time CPT, you are officially ineligible for Optional Practical Training (OPT).
OPT (Optional Practical Training)
Optional Practical Training (OPT) refers to temporary jobs relating to your field of study which is eligible students can receive up to 12 months. To qualify for Optional Practical Training, your school will need to endorse your application and submitted to the USCIS. There are two subcategories within OPT, which include:
Pre-completion OPT – Available once you have completed one full academic year at a US college or university. You can work up to 20 hours a week when school is in session or full-time when it is not.
Post-completion OPT – Available after completing your studies. Those who are authorized for post-completion OPT can work either part-time or full-time.
For those interested in joining both pre-completion and post-completion OPT, the 12-month maximum work period is divided between the two. If you participated in 9 months of pre-completion OPT during your time as a student, you can only participate in 3 months of post-completion OPT after you graduate. 
Interested in Studying in the United States?
If so, Contact VisaPlace today. All our cases are handled by competent and experienced immigration professionals who are affiliated with VisaPlace. These professionals consist of lawyers, licensed paralegals, and consultants who work for VisaPlace Legal an award winning immigration firm that adheres to the highest standards of client service.
Ready for the next step? Book your 1 on 1 consultation now or call us at 1-877-296-0874.
Have a Question related to your Immigration Needs?
Fill out the FREE Immigration Assessment form and get a response within 24 hours to see if you're eligible.
The assessment form should take approximately 5-7 minutes to complete. We will get back to you within one business day to let you know if we are able to help.