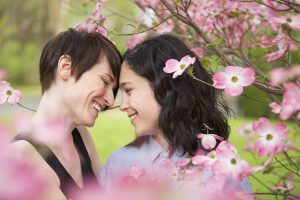 As pride month comes to an end in the United States, we find it important for same-sex couples to understand and explore their immigration options. For decades, many in the US have been fighting for more equality and we are slowly taking a stride forward. In 2015, the US Supreme Court legalized same-sex marriage in all 50 states giving many LGBTQ+ individuals the chance to a better and more comfortable life. Many countries still have strict bans against those who are interested in the same sex leaving many foreign nationals scared to be themselves, punished, or unaccepted in their home country. Here we explore the opportunities for those who find themselves in this situation!
US Immigration Options for Same-Sex Couples 🏳️‍🌈
K-1 Fiance Visa
As mentioned before, in 2015 same-sex marriage became legal in all 50 states allowing foreign nationals interested in immigrating to the United States the opportunity to apply for a K-1 Visa also referred to as a fiance visa. This visa program is specifically for US citizens looking to sponsor their fiance to live with them in the US and looking to get married soon. This is a great option for those in a same-sex relationship that are unable to marry in their home country.
Marriage-Based Green Card
If you and your partner are already married, a US citizen or permanent resident could sponsor their spouse through a marriage-based green card. Because same-sex marriage is legal in all 50 states, LGBTQ+ couples are able to undergo this process the same as opposite-sex couples. This option is only available to those who are legally married under the jurisdiction where it took place. For example, if marriage is forbidden in your home country, you would need to utilize the fiance visa option or get married in another country it is legal!
Children of Same-Sex Couples
Not only are same-sex couple individuals able to be sponsored to the United States, but their children also have the option to immigrate as well. Immigrant rights have been extended to children to same-sex couples. When a US citizen petitions their spouse, their children can qualify for visas such as the IR2 or CR2 which must be done before they turn 18 years old.
Refugees and Asylum
Immigration for LGBTQ+ individuals through a refugee or asylum program is slowly gaining more attention. This status is granted and available only to those who are seeking protection because they suffered persecution or could be mistreated because of their race, religion, nationality, sexual orientation, plus more. According to NBC News, about 4,400 people applied for asylum in the US based on their LGBTQ status between 2007-2017. This gives eligible immigrants the opportunity to be free in their own skin!
U Nonimmigrant Visa
An option that many foreign nationals don't even know that's available in the U Visa also referred to as someone having a U nonimmigrant status. The U visa was created for foreign nationals who have been victims of serious crimes that resulted in substantial physical or mental harm where the victim can provide certification from a law enforcement official that they are, have been, or are likely to be helpful in the criminal investigation or prosecution of the crime. Many LGBTQ individuals from around the world come to the United States to seek protection from persecution in their home country. Therefore, LGBTQ+ individuals who have been hiding their identity for most of their life also come to the US seeking the freedom to live openly.
The common types of harm experienced by LGBTQ individuals that allow them to apply for a U visa include:
Discrimination and harassment
Physical violence
Prosecution and punishment for LGBTQ identity
Persecution in childhood
Rape & sexual assault
Forced medical treatment
Persecution of HIV-positive person or persons with AIDS
Gender-based persecution
Economic persecution
Mental, emotions, and psychological harm
10 Top LGBTQ+ Friendly Neighborhoods
New York City, NY (West Village, Chelsea)
San Francisco, CA (The Castro)
Los Angeles, CA (West Hollywood)
Chicago, IL (Boystown)
Houston, TX (Montrose)
Denver, CO (Capitol Hill)
Philadelphia, PA (The Gayborhood)
San Diego, CA (Hillcrest)
Boston, MA (The South End)
Buffalo, NY (Allentown)
LGBTQ+ History Highlights
Most LGBTQ+ rights weren't established until less than a decade ago and there is still a lot of work to do but on the right track! Within this time, many American leaders have become more supportive and open-minded to LGBTQ+ social issues starting with former president Obama starting in 2009. A few history highlights that we celebrate in America today include:
US v. Windsor – 2013 | By 2013, many states had made same-sex marriage legal but the Supreme Court decided that not allowing same-sex couples to marry was unconstitutional. This ruling was to protect tax and financial implications for those within a same-sex marriage.
Obergefell v. Hodges – 2015 | The Obergefell v. Hodges case was a huge win in 2015 when all 50 states in the United States were to recognize and license same-sex marriages. This falling under the equality protections ruled within the 14th Amendment.
Bostock v. Clayton County – 2020 | The most recent victory for LGBTQ+ individuals in the United States is the Bostock v. Clayton County case that stopped employers from discriminating against queer employees at work. Before this ruling, many states didn't have any protections for LGBTQ+ individuals at work, and is not considered unconstitutional.
Are You In A Same-Sex Couple Needing US Immigration Guidance? We Can Help!
If so, Contact VisaPlace today. All our cases are handled by competent and experienced immigration professionals who are affiliated with VisaPlace. These professionals consist of lawyers, licensed paralegals, and consultants who work for VisaPlace Legal an award winning immigration firm that adheres to the highest standards of client service.
Ready for the next step? Book your 1 on 1 consultation now or call us at 1-888-317-5770.
Have a Question related to your Immigration Needs?
Fill out the FREE Immigration Assessment form and get a response within 24 hours to see if you're eligible.
The assessment form should take approximately 5-7 minutes to complete. We will get back to you within one business day to let you know if we are able to help.