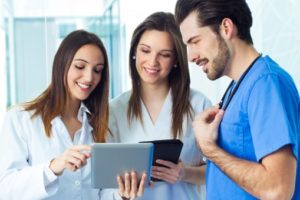 Moving to the US means that you will have access to the United States Healthcare system. The US Healthcare system functions primarily in the private sector. This means that much of your care will be provided by private organizations. Unlike some other countries, the US does not have free/ subsidized healthcare. This means that in order to pay for used health services, you will likely use health insurance. Although you can pay out of pocket for health care it can be prohibitively expensive.
Healthcare in the US for Immigrants
Can I get free healthcare in the US?
No, the US does not provide free health care and you will need to either pay for health services out of pocket or through insurance.
Does insurance cover the entire cost of the procedure or service?
Typically, when you use your health insurance, you will be responsible for a co-pay. A co-pay is a smaller fee that you pay at the time of your visit. This cost will vary depending on what type of insurance you have. After you have paid your co-pay, your insurance will cover the remaining cost of your care.
Can I visit any doctor I want?
While you can visit any doctor you wish, the health insurance plans that doctors accept will vary. This means that you will want to do your research before choosing a primary care doctor to ensure that they will be able to accept your health insurance plan.
How do I pick the best health insurance plan?
There are two main ways that you will choose health insurance. The first is through an employer. Many US employers offer health care as a part of their benefits program. The company will typically pay a portion of the health care premium which helps to reduce the cost that you must cover. However, because the company is paying a portion of the premium they will likely choose the least expensive insurance policy. If you wish to shop for health care that differs from your employer or you do not receive health care through work you will take a different approach. There are three markets that you can purchase healthcare in: the federal market, state-based market, or private market. The federal and state markets are government based while the private market is made up of individual companies. Once you decide which market you would like to purchase from, the next step is to compare the different types of health insurance plans, health plan networks, out-of-pocket costs and benefits.
What are the different health insurance plans?
There are four main health insurance plans.
HMO: Health Maintenance Organization – This plan is good if you want lower out-of-pocket costs and a doctor that will coordinate your care, including procedures and working with specialists.
PPO: Preferred Provider Organization – This plan is good if you want a wide selection of providers and does not require a referral for specialists and procedures.
EPO: Exclusive Provider Organization – This plan is good if you are looking for lower out-of-pocket expenses and does not require a referral for specialists and procedures.
POS: Point off Service Plan- This plan is good if you want more provider options and a primary doctor that is in charge of coordinating your care, including procedures and working with specialists.
If my doctor prescribes me a medication, how do I fill that prescription?
You will need to take the prescription to a pharmacy. In the US, Walgreens, CVS and Rite Aid are large pharmaceutical chains. At the pharmacy, the pharmacist will fill your prescription. You will provide the pharmacist with your health insurance information the first time you go to fill a prescription. This information will be used to determine the price that you will pay for that prescription. There is always the option to pay out of pocket, but like health services this can be costly.
Are You Interested in Immigrating to the United States?
If so, Contact VisaPlace today. All our cases are handled by competent and experienced immigration professionals who are affiliated with VisaPlace. These professionals consist of lawyers, licensed paralegals, and consultants who work for Niren and Associates an award-winning immigration firm that adheres to the highest standards of client service.
Ready for the next step? Book your 1 on 1 consultation now or call us at 1-888-317-5770.
Have a Question related to your Immigration Needs?
Click here to fill out the FREE Immigration Assessment form below and get a response within 24 hours to see if you're eligible.
The assessment form should take approximately 5-7 minutes to complete. We will get back to you within one business day to let you know if we are able to help