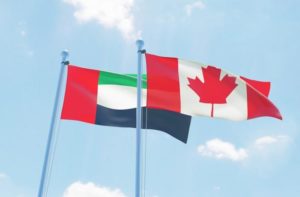 Canadian Travelers May Have to Pay Up to $1,000 for Visas
Canadians traveling to the United Arab Emirates may be facing higher fees as the UAE has changes its fee structure for visas.
A 30-day visa now costs $250, a 90-day visa costs $500 and a six-month, multiple-entry visa costs $1,000, which is a very high price by international standards. Previously, a one-month visa to the UAE for Canadians was free. Over 30 other countries still enjoy free 30-day visas when visiting the UAE.
The maximum duration of each visit for the six-month multiple-entry visa is 14 days.
Unfortunately, many Canadians live in the UAE and many people in the UAE have relatives in Canada, presenting a challenge for travelers to and from Canada with the new fees.
Visa Increase for Canadian Travelers from UAE
The UAE's large air carriers had been looking to increase the number of flights to and from Canada, but negotiations haven't been going very well (Canada has denied expanded landing rights for the UAE) and it would appear that the UAE is retaliating by increasing visa fees.
The UAE are home to about 25,000 Canadians and about 200 Canadian businesses operate in the UAE, and the UAE has stated that the mere six weekly flights between the countries was not enough for such active trading partners. The UAE is the largest trading partner with Canada in that region of the world.
The new visa fees for Canadian travelers start on January 2, 2011, and Canadians are being asked to apply for visas at least 15 days before their departure.
Are You From UAE and Want to Visit Canada?
If so, Contact VisaPlace today. All our cases are handled by competent and experienced immigration professionals who are affiliated with VisaPlace. These professionals consist of lawyers, licensed paralegals and consultants who work for Niren and Associates an award winning immigration firm that adheres to the highest standards of client service.
Ready for the next step? Book your 1 on 1 consultation now or call us at 1-888-317-5770.
Have a Question related to your Immigration Needs?
Click here to fill out the FREE Immigration Assessment form below and get a response within 24 hours to see if you're eligible.
The assessment form should take approximately 5-7 minutes to complete. We will get back to you within one business day to let you know if we are able to help.