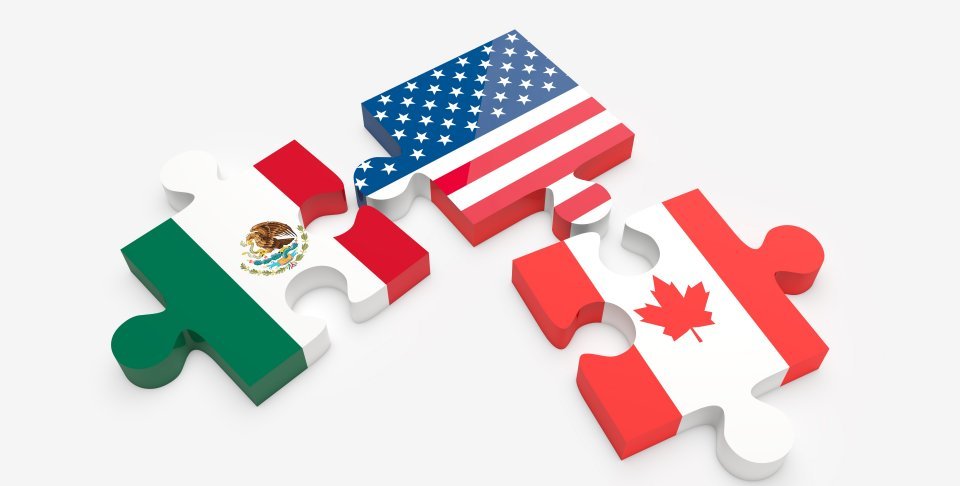 *Update June 22: President Trump has suspended several US Work Visas but the work visa under NAFTA is not affected. The TN visa is still open and accepting applications.
Uncertainty and confusion continue to fill the air following Donald Trump's win of the 2016 US Presidential Election last week. One area quite inflated with such air is immigration. In addition to pursuing massive deportation of undocumented aliens and building the 'wall', Trump has pledged to scrap or at least "re-negotiate" the North American Free Trade Agreement ("NAFTA ").
[NAFTA is under revision. NAFTA will most likely turn into the USMCA (United States Mexico Canada Agreement). USMCA is expected to be approved in the beginning of 2019. Until then NAFTA will remain active and the visas under NAFTA are still available. Learn more about about the USMCA. ]
What is NAFTA?
NAFTA is a comprehensive trade treaty between the United States, Canada and Mexico, which allows for tariff-free trade between the three nations.
An additional benefit stemming from the creation of NAFTA and directly relating to immigration is the creation of  the Trade-NAFTA (TN) visa for Canadian and Mexican nationals entering the United States to pursue employment, and the NAFTA work permit for American and Mexican nations entering Canada to pursue employment.
TN Visas
The TN Visa is available to citizens of Canada and Mexico who qualify as professionals under the North American Free Trade Agreement (NAFTA).  This visa allows professional to enter the United States and engage in employment based on their educational credentials or work experience. A TN visa is granted to a Canadian or Mexican citizen where:
Their profession is on the NAFTA list;
The Canadian or Mexican citizen possesses specific credentials and/or experience;
The prospective employment opportunity requires someone with such credentials or experience; and
There is an offer of employment from a U.S. employer
TN Visas: How they benefit Canadians
The TN visa is a popular option for many Canadian professionals seeking to relocate into the U.S. as a result of a new job opportunity. The reasons for its favorability are that it allows the Canadian professional to apply for the visa right at the border – meaning no lengthy wait times for the visa to be approved, nor is a visa interview at a U.S. consulate office required. Furthermore, the TN visa is valid for a three-year period, after which the professional can renew their TN status for an additional three years, and the key factor is that the visa can be renewed an indefinite amount of times without having to return to Canada. Lastly, no sponsorship is needed from the U.S. employer and as such, minimal amount of effort needs to be exerted on the part of the U.S. employer to hire-on the Canadian professional. These benefits are the reason why many American companies and employers turn to Canada when they are in need of qualified applicants, especially when they cannot find such applicants within their borders.
NAFTA Work Visas for Canada
Very similar to the TN visa in the US is the availability of NAFTA work permits in Canada. Also granted to nationals of signatory countries to NAFTA, work permits under NAFTA are available to designated professionals, intra-company transferees, and traders and investors. Just like the TN visa, no additional labor certifications are needed, eligible persons can apply right at the Canadian border, and can be granted for up to three years with no fixed limit on the number of extensions. As a result, many Canadian employers favour the NAFTA work permit program and use it extensively to bring in the professionals they otherwise cannot find within Canada.
Immigration Consequences if NAFTA ends
What would happen if Donald Trump went through with his promise of eliminating NAFTA? Well, in addition to potential price increases on everyday product and the relocation of North American manufacturers, the widely sought after TN visa will be no more.
With the TN visa option gone, Canadian citizens who would otherwise obtain a U.S. job offer and relocate with ease, would have to look into other visa options to pursue employment in the United States. Majority of the other employment-related immigration routes require a lot more of the U.S. employer, where they would have to sponsor the foreign employee and work additional parties like the Department of Labor to obtain wage determinations and/or labor certifications.  As a result, both Canadian professionals and U.S. employers may be deterred from engaging in the process. It is already difficult for many U.S. companies and employers to obtain the professionals they need, as the common U.S. employment visas exceed their annual cap year after year.
But Don't Worry!
With all this being said, there is little to be alarmed about. Although Trump has continuously mentioned how he desires to eliminate what he refers to as "the worst trade deal in history", it is more likely that he will attempt to renegotiate the agreement with the treaty countries and/or put another trade agreement in place rather than completely eliminate any treaty trade deal between Canada, U.S., and Mexico.
Donald Trump is to be sworn into the White House on January 20, 2017. Only time will tell whether he will steer ahead with his campaign promises, or take an unexpected turn.
Need Help with a Work Visa in 2021?
If so, Contact VisaPlace today. All our cases are handled by competent and experienced immigration professionals who are affiliated with VisaPlace. These professionals consist of lawyers, licensed paralegals, and consultants who work for Niren and Associates an award-winning immigration firm that adheres to the highest standards of client service.
Ready for the next step? Book your 1 on 1 consultation now or call us at 1-888-317-5770.
Have a Question Related to Your Immigration Needs?
Click here to fill out the FREE Immigration Assessment form below and get a response within 24 hours to see if you're eligible.
The assessment form should take approximately 5-7 minutes to complete. We will get back to you within one business day to let you know if we are able to help.