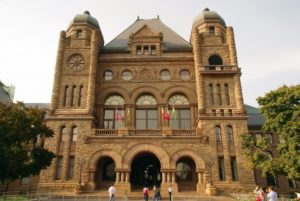 Deciding where to go to university or where to do postgraduate work can be a stressful time for many students. Luckily, if you are considering studying in Canada, there are many wonderful options. Canada boasts three of the top universities in the world: University of Toronto, McGill University and the University of British Columbia.
University of Toronto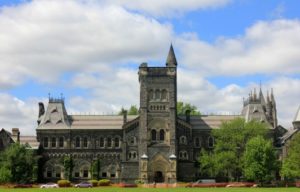 University of Toronto was founded in 1827 and is recognized as a global leader in research and teaching. They offer courses in a range of subjects while still maintaining small classroom sizes. There are three campuses that students can attend: Mississauga, downtown Toronto, and Scarborough. The city of Toronto is an amazing city that offers students a dynamic and cultural place to explore.
Quick Facts
In 2018, there are 16,899 new full-time students entering the University of Toronto's Undergraduate class.
The school is a popular destination for international students and 163 nationalities are represented.
There are 14,332 Faculty members.
In the 2015-2016 academic year, University of Toronto received $1.1 Billion in research funds.
There are approximately 700 undergraduate programs and 280 graduate programs.
The University offers professional training in Dentistry, Education, Law, Medicine, Nursing and Pharmacy.
Domestic Tuition is: $6,590-$15,010 a year.
International Tuition is: $45,690- $50,780 a year.
800 clubs and organizations
Campuses
The University has three campuses. These campuses each host different schools and offer their students a unique atmosphere.
Mississauga
This is the second largest campus and is located to the west of the Toronto campus. It is located near the Credit River. It is the home of 17 departments, 156 programs and 92 areas of study.
Undergraduate Departments:
Anthropology, Biology, Chemical and Physical Sciences, Economics, English and Drama, Language, Geography, Historical Studies, Management, Mathematical and Computer Sciences, Philosophy, Political Science, Psychology, Sociology, and Visual Studies.
Graduate Departments:
Medicine, Anthropology, Cell & System Biology, Chemistry, Ecology & Evolutionary Biology, Geography, Geology, History of Art, Mathematics, Physics, Physiology, and Sociology.
Research
Mississauga is home to many of the University's faculty researchers. This provides students studying on this campus to engage in their own research. University of Toronto also goes beyond simple research and has many connections to industry and the local government. Your research may help to find a solution to real-world concerns.
Downtown Toronto
This is campus is located in the middle of Downtown Toronto, one of the world's most dynamic cities. Your university experience can be enhanced by access to fairs, festivals, sports and culture from the city.
College System
If you choose this campus, you will belong to one of seven colleges. The college system is a University of Toronto tradition and aims to give you a community. Each school has a distinct personality and each offers specific academic coursework. This means that you will need to choose a college that offers a program of study that you are interest in.
Scarborough Campus
This is campus located to the East of Toronto. The students who choose this campus have an opportunity to participate in University of Toronto's Co-op program.
Co-op Program
This program aims to prepare students for their jobs after graduation through hands on work experience. Students will have the opportunity to work as research assistants, community volunteers or interns. Find out more about the employers this Co-op program works with.
Academic Departments:
Anthropology, Arts/Culture/ Media, Biology, Computer and Mathematics, Critical Development Studies, English, French, Historical Studies, Human Geography, Health and Society, Management, Philosophy, Physical and Environmental Sciences, Political Science, Psychology, and Sociology.
University Organizations and Activities
The University has a large range of activities for students beyond their coursework. There are clubs, sports teams, social activism groups, drop-in classes, research and publication opportunities. You are sure to find an activity that suits you. Find out more about the University's organizations and activities.
Graduate Opportunities
The University of Toronto offers 200 graduate programs over the three campuses. These degrees can be taught or research based. The program length can vary from degree to degree. Find out more about the areas of graduate study.
McGill University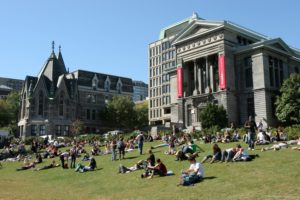 McGill University was founded in 1829 and is one of Canada's best known institutions. It is ranked 1st in Canada and 32nd in the World. The University's entering students have the highest average entering grades and 144 McGill students have won the Rhodes Scholarship.
Quick Facts
Students come from 150 different countries.
10 Faculties, 12 schools and over 1200 programs.
Two campuses
400 graduate programs
Played the world's first modern football game against Harvard in 1874.
Considered the birthplace of Hockey and had the first official hockey team.
A McGill grad invented basketball in 1891.
Many of McGill's women students were the first to achieve in their chosen field. Find out more about these trailblazing women.
Well known for its research prowess.
Ranks 18th in the world for its reputation among employers.
Location
McGill University is located in Montreal in Quebec. Montreal is the largest city in Quebec and second largest in Canada. Montreal is divided into 19 boroughs and the University is located in Le Plateau-Mont-Royal. This is the largest borough and has been labeled as one off Canada's most creative neighborhoods. The southwestern portion of Le Plateau-Mont-Royal is known as McGill Ghetto and is the home to many of the University's students and faculty. Montreal is known to be a safe and affordable city.
Campuses
Downtown Campus
This campus is home to most of McGill's programs and is located in the heart of Montreal. It has state of the art labs, recording studios and classroom buildings.
Macdonald Campus
This campus is the home of McGill's Faculty of Agricultural and Environmental Sciences and the School of Dietetics and Human Nutrition. It is located 36 km west of Montreal in Ste-Anne-de-Bellevue. Approximately 2,000 students enjoy it picturesque scenery.
Academics
McGill offers numerous possible degree options. Find out more about their programs.
Internships, Co-op, Study Abroad and Research Programs
McGill is committed to helping students learn by doing. As a result, they offer an extensive Co-op and internship program. McGill students are connected to a vast network of industry contacts which can help them find their dream experience.
Students have the opportunity to participate in an exchange program with 150 different institutions. There are programs that fit any students degree path whether you are an arts student or an engineering student.
McGill prizes its ability to provide students with on campus research options. Students are able to work with top faculty members to gain invaluable research experience. You have the option to work one-on-one with a favorite professor or you can join a research program. McGill offers formal research programs in Agriculture, Faculty of Arts, Engineering and Science.
Academica
University Organizations and Activities
The University
Graduate Opportunities
UBC offers 400 graduate programs that range over a wide variety of topics. Find out more about which programs McGill offers to Graduate students.
University of British Columbia (UBC)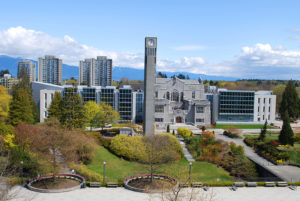 University of British Columbia was founded in 1915 and fosters an entrepreneurial spirit in its students. UBC embraces innovation and has worked to change the worlds. It supports exceptional research facilities and encourages students to become involved in research that relates to their degree.
Quick Facts
16,188 international students from 156 countries
207 companies started from UBC research
$658 million in research funding for 8,973 projets
Canada's first Fair Trade Campus
Two campuses
55,887 students
16 Faculties, 18 schools and 2 colleges
8 Nobel Prize winners
71 Rhodes Scholarship winners
Campuses
Vancouver Campus
UBC's Vancouver campus is located on the Point Grey Peninsula in the city of Vancouver. It is surrounded on three sides by forest and the ocean on the fourth side. It is a 30 minute bus ride to Vancouver's downtown. There are two satellite branches of this campus. Both are located in downtown Vancouver, one in Robson Square and the other in the Great Northern Way.
This campus is home to residences, study spots, recreational facilities, and academic buildings. It includes the TRIUMF which is one of the world's leading laboratories for subatomic physics. It is is also home to the museum that houses Canada's largest blue whale skeleton. This campus has something for everyone.
Okanagan Campus
This campus aims to foster an intimate learning experience. It was built in the early 2000's and opened in 2005 in Kelowna. This campus is home to many of UBC's research labs. The campus has 8 Faculties and schools. Find out which Faculties and schools call Okanagan their home.
University Organizations and Activities
The University aims to connect its students to one another and the larger community. UBC does this by creating wonderful extracurricular activities for its students. These include: sports, lunch time workouts, Storm the wall, lectures, concerts, guest speakers, clubs, and volunteer opportunities. Find out more about your extracurricular activity options.
Graduate Opportunities
The University of British Columbia offers graduate programs at both of its campus. Find out more about the Vancouver campus and the Okanagan Campus options.
Why Hire Us to Help You With Your Student Visa Forms
Studying in Canada is an amazing experience for any student as Canada has some of the highest standards of education in the world. If you want to ensure your best chances at getting an approval on your student visa application, then we recommend you consult with us before submitting. We have helped thousands and thousands of students successfully enter Canada on a study permit, and we can help you too! Take our free online assessment to find out your immigration eligibility!
Sources:
https://www.utoronto.ca/
https://mcgill.ca/
https://www.ubc.ca/
Photo Sources
Photo of McGill University
https://www.usnews.com/education/best-global-universities/mcgill-university-499986
Photo of University of British Columbia
https://www.usnews.com/education/best-global-universities/university-of-british-columbia-499976