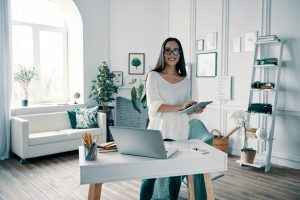 Many foreign entrepreneurs have been on the lookout for the perfect pathway to immigrate to the United States. Most candidates will pursue US visas like the E2 Visa which allows one to start a US business without a huge investment. Unfortunately, the US doesn't have any visa programs specifically for start-up founders looking to expand their business. In 2017, with 3 days left in office, former President Obama proposed the International Entrepreneur Rule (IER) which allows entrepreneurial foreigners to immigrate to the United State. Since then, there has been a lot of back and forth about whether the International Entrepreneur Rule would be implemented and was recently revisited. Don't worry, we have good news!
What Is The International Entrepreneur Rule (IER)?
A qualifying entrepreneur will be paroled into the United States for an initial 30-month period (with a possible extension) and will have work authorization incident to status
The International Entrepreneur Rule, issued by the Department of Homeland (DOL) allows foreign entrepreneurs to work in the United States for an initial 2.5 years with the possibility for extension if they meet a few qualifying factors. First, the applicant must:
Must have a substantial ownership interest in the start-up (at least 10 percent)
Must have an active and central role in the operations and future growth
The applicants entity must:
Must have been created within five years of the application
Must prove that it has significant investment from qualified and established US investors (at least $250,000) OR the receipt of significant awards or grants from federal, state, or local governments (at least $100,000)
How To Apply
Depending on your situation, there may be a number of forms to complete. The list of forms accepted under IER include:
International Entrepreneur Rule Relaunched
After Obama's presidency, the Trump administration took office and eventually worked to terminate this rule debating that it relies on legislation known as parole, which allows foreigners into America without a US visa. Ultimately the Trump administration didn't follow through with its plan to terminate the IER but candidates were under the impression applications wouldn't get approved and didn't gain traction. In fact, a USCIS official stated that only 30 IER applications were submitted with only one being approved between 2017 to 2019.
Fast forward to May 2021 and the Biden administration has stated their plan to promote the program and revive the International Entrepreneur Rule. Later the DHS announced it will resurrect the IER program, as it "goes hand-in-hand with our nation's spirit of welcoming entrepreneurship." The move comes in response to venture capitalist firms, which have urged the administration to back the program and enable potentially thousands of start-up founders to move or remain in the US to grow their businesses.
Interested In Immigrating to the United States as an Entrepreneur?
If so, Contact VisaPlace today. All our cases are handled by competent and experienced immigration professionals who are affiliated with VisaPlace. These professionals consist of lawyers, licensed paralegals, and consultants who work for VisaPlace Legal an award winning immigration firm that adheres to the highest standards of client service.
Ready for the next step? Book your 1 on 1 consultation now or call us at 1-888-317-5770.
Have a Question related to your Immigration Needs?
Fill out the FREE Immigration Assessment form and get a response within 24 hours to see if you're eligible.
The assessment form should take approximately 5-7 minutes to complete. We will get back to you within one business day to let you know if we are able to help.