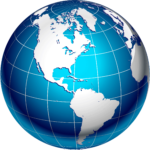 One of the most common questions we are asked at our immigration law firm is, how can you help me immigrate from my country when you are all the way over in Toronto?
We are frequently asked by people from all over the world how we can help them if we are located in Toronto. It's a great question, and we have an answer.
VisaPlace's Main Office is in Toronto but We Can Help You From Anywhere!
We are located in Toronto, and have been practicing for over 15 years. Immigration is all about bringing people across borders from very far away, and we have had thousands of clients over the years – many of whom live or once lived very far from Toronto, even thousands of miles away.
We've created a YouTube video to help explain this better, and you can watch it here:
We Use Technology to Reach You
We are living in a global society with amazing different types of technology at our disposal that makes communicating across large distances very easy. From Skype to courier services, we are able to keep in close contact with our clients no matter where they live. We also have offices located across North America for clients who wish to visit us when it is convenient for them, but it is not necessary for us to help you with your immigration needs. Book a Virtual Consultation for US or Canadian Immigration Services
How We Can Help With Your Immigration Case
Contact us at the above phone number or by using the e-mail contact form on the right for more information, or to set up an assessment of your case. We would be glad to help you! You can also follow our YouTube channel for all kinds of helpful immigration videos.