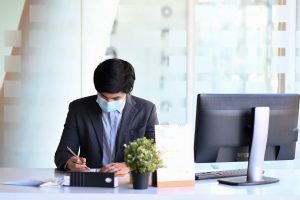 Most foreign nationals seeking to start a new life abroad are looking for a country they can utilize their prior skills to create a financially comfortable life. Being able to obtain a job can also help an individual financially cover their day-to-day living expenses so obtaining a US work visa is important to most immigrants. There are a number of work visa pathways for those looking to immigrate to the United States whether it's a temporary or permanent move. Here we break down your temporary work visa and employment green card processing times so you can start the process far enough in advance.
Related Article: US Work Visas
US Work Visa Processing Times
US Temporary Work Visas
The average time for a US temporary visa to process can take anywhere from 3 weeks to 4 months depending on which work visa you are applying for and how many work visa applications are before yours.
Related Article: US Immigration Application Backlog: What to Expect
US Employment-Based Green Card
Being the most long-term US visa, you can expect the processing time for permanent residence to be more lengthy than most other visas. According to USCIS, an application for permanent residence (Form I-485) will take anywhere from 6 months to 33 months to process depending on a few factors. There is an annual limit to the number of green cards available to each country. This means, applicants from countries with fewer green card applicants usually have a much shorter waiting time compared to those from countries with a large number of applicants
USCIS Premium Processing
Some applications filed with USCIS can be filed using Premium Processing, a service offered by USCIS that guarantees a response on your application or petition within fifteen (15) calendar days. Petitioners or applicants filing forms have the option of filing their petition with form I-907, Request for Premium Processing Service, which is currently $2,500 USD. The US Government continues to add more applications that can avail of this service going forward. To discuss whether your pending application with USCIS can be upgraded to premium processing, or if you can file your application with premium processing, please reach out to us.
Related Articles: 5 Ways to Speed Up Your USCIS Application
US Work Visa Options
When looking to immigrate to the United States based on your prior work experience, you have various options depending on if you are interested in settling permanently or temporarily. Those work visa and employment-based green cards include:
Temporary Work Permits
Permanent Employment-Based Green Card
Need An Immigration Lawyer For Your US Work Visa Application?
If so, Contact VisaPlace today. All our cases are handled by competent and experienced immigration professionals who are affiliated with VisaPlace. These professionals consist of lawyers, licensed paralegals, and consultants who work for VisaPlace Legal an award-winning immigration firm that adheres to the highest standards of client service.
Ready for the next step? Book your 1 on 1 consultation now or call us at 1-877-296-0874.
Have a Question related to your Immigration Needs?
Fill out the FREE Immigration Assessment form and get a response within 24 hours to see if you're eligible.
The assessment form should take approximately 5-7 minutes to complete. We will get back to you within one business day to let you know if we are able to help.