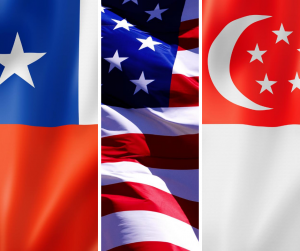 What is the H-1B1 Visa?
While other categories of the H visa allow all nationals to apply, the H-1B1 is specifically for Chile and Singapore. Every year 1,400 visas are issued to Chile and 5,400 visas are issued to Singapore. The visas are for professionals from each country. Typical fields are mathematics, engineering, and business.
Who is Eligible for an H-1B1 Visa?
The person seeing an H-1B1 visa must a citizen of Singapore or Chile and possess a passport from either country.  The applicant must demonstrate that they occupy a professional position through diplomas, certificates, and any other work documentation.
How to Immigrate to the US from Chile
How to Immigrate to the US from Singapore
How Do I Apply for an H-1B1 Visa?
This is not a petition based visa which means that you do not need to be sponsored by an employer. However, your US employer will need to offer you a job that meets the educational and experience requirements. They will also need to obtain a Labor Condition Application. The certificate ensures that the new employee will be given a full wage, the work environment conforms to US laws, the government is aware of the work that is being completed and the government has a full record of the company information. The LCA is vital to show that you can work in your position legally. In order to apply, you will need to visit your local US embassy and you will need to complete Form DS-160. After the paperwork has been completed, an interview needs to be scheduled. You will also need to pay the visa application fee and the visa issuance fee. Finally, all documentation needs to be sent to the US embassy either by courier or in person.
H-1B1 Visa vs H-1B Visa
Although the name of these two visas is quite similar there are some obvious differences between the H-1B1 and the H-1B visa:
H1B1 visa is for Chilean and Singaporean citizens only
Your employer is not required to submit the Form I-129 and the Petition for Nonimmigrant Worker for the H1B1 visa
You are not required to get a Notice of Approval and Form I-797 prior to filing the visa application
You must file an Application for Foreign Labor Certification with the Department of Labor before submitting your H1B1 visa application
Frequently Asked Questions:
How long is the H-1B1 visa processing time?
The H-1B1 generally takes around 4 to 6 months to be processed.
How long is an H-1B1 valid for?
The H-1B1 visa is valid for 12 to 18 months.
Can I extend my H-1B1 visa?
You can apply for a one-year extension 4 to 6 months before your visa is supposed to expire. You can apply for this one-year extension indefinitely.
Can I change employers and keep my H-1B1 visa?
If you change employers you will need to have the new employer file for an LCA and they will need to file I-797A. The transfer must be approved before you can begin work.
Can I change my H-1B1 visa into another type of visa?
You may apply for another visa, excluding the Green Card, while on the H-1B1 visa. You will need to follow the specific procedures of the type of visa you are applying for.
Can I apply for a Green Card while in the US on an H-1B1 visa?
No, you will not be able to apply for a Green Card as an H-1B1 visa.
Are You Interested in an H-1B1 Visa?
If so, Contact VisaPlace today. All our cases are handled by competent and experienced immigration professionals who are affiliated with VisaPlace. These professionals consist of lawyers, licensed paralegals, and consultants who work for Niren and Associates an award-winning immigration firm that adheres to the highest standards of client service.
Ready for the next step? Book your 1 on 1 consultation now or call us at 1-888-317-5770.
Have a Question related to your Immigration Needs?
Click here to fill out the FREE Immigration Assessment form below and get a response within 24 hours to see if you're eligible.
The assessment form should take approximately 5-7 minutes to complete. We will get back to you within one business day to let you know if we are able to help.