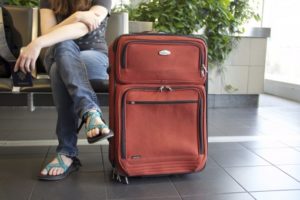 If you're planning to travel to Canada in the near future, you could be affected by the new Electronic Travel Authorization (eTA) system. We're going to look at exactly what these new changes to immigration practices are, and what they potentially mean for travelers to Canada.
Understanding The New Electronic Travel Authorization System

Rewind to February 2011, when Canada, together with the United States, first agreed to the 'Beyond the Border Action Plan', which was effectively put into place in order to achieve greater harmony and strengthen co-operation between American and Canadian immigration practices.
Since then, the Canadian government has been working to implement individual terms of the plan, and is introducing three considerable changes to immigration legislation over the next year (2014/2015) that are set to affect just about everyone planning to enter Canada.
Examining Electronic Travel Authorization (eTA)

At the moment, those looking to enter Canada either
a) Need to apply for and acquire temporary resident visas before they enter the country, or
b) Can enter Canadian ports without having to obtain a visa first. However, from April 2015 this will no longer be the case, and the eTA system will kick into place.
Instead, foreign nationals currently exempt from having to obtain a temporary resident visa will have to seek online authorization before flying to Canada. This will impact European, Australian, Japanese and Korean citizens, amongst others. US citizens will be exempt.
Obtaining eTA
In order to obtain your eTA, you will have to visit the Citizenship and Immigration Canada (CIC) website, where you will have to fill out an application form containing your passport, biographical and background information; all of which may affect your admissibility to the country. Your information will then be processed using an electronic system that will carry out a risk assessment and verify the information you have provided. The good news is, the majority of applications will be approved within a matter of minutes.
The new eTA procedure also affects airlines, who will have to provide passenger information to the Canadian immigration authorities before boarding. This also means that anyone who has not applied and been approved for an eTA will be prohibited from flying.
Shared Information
Canada will begin sharing biometric-based information on immigrants with the United States, due to be implemented in 2014. This shared information will help improve assessments for things like visa applications, along with ensuring records are accurate and up-to-date. A biometric match will mean that certain information on an individual may be shared, such as their current immigration status, any previous admissibility decisions and reasons for previous refusals, along with other general information.
Do You Have More Questions About Electronic Travel Authorization?

If you're not sure how this affects you, or not sure if you'll require an eTA, we at Visaplace can help you, contact VisaPlace today. All our cases are handled by competent and experienced immigration professionals who are part of the VisaPlace team. These professionals consist of lawyers, licensed paralegals and consultants who work for Niren and Associates an award winning immigration firm that adheres to the highest standards of client service.
Ready for the next step? Book your 1 on 1 consultation now or call us at 1-888-317-5770.
Have a Question related to your Immigration Needs?
Click here to fill out the FREE Immigration Assessment form below and get a response within 24 hours to see if you're eligible.
The assessment form should take approximately 5-7 minutes to complete. We will get back to you within one business day to let you know if we are able to help.